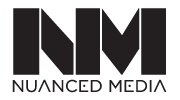 Tucson, AZ (PRWEB) February 10, 2013
Some of the websites Nuanced Media has been adding their information to the following directories: Yelp and Yellowmoxie.
Business management, in today's society, compromises store management and online presence. With millions of users every day, the internet has turned from a fad into a necessity. Each of these directories allows the companies information to be easily accessible.
Businesses all over the world can spread their brand while targeting potential consumers. An important factor for customers is their ability to easily find the product or service they are searching for.
Yelp is one of the top directories on the web today. Yelp averages over 84 million unique monthly visitors and setting up an account is free. 'Yelpers' have over 33 million local reviews to help their customers find the best suitable business in their local area.
Yellowmoxie is the local expert and online resource for finding local businesses and retailers. Customers can browse through their listings in just minutes to help find the right business to suit their needs. Yellowmoxie's page of Nuanced Media shows a easy to read map and includes large font of the hours of operation, company's specialty, and a quick paragraph informing you about their history.
About Nuanced Media
Nuanced Media is a full service Tucson web design and Tucson marketing firm. They can be found at 301 N Norton Ave. Tucson, Arizona 85719 and can be reached at 520.261.7764