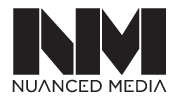 Tucson, AZ (PRWEB) February 20, 2013
Arguably the most important factor of a business' success is their online presence. Nuanced Media has been increasing their brand by expanding their online virtual notoriety.
Some of the websites Nuanced Media has been adding their information to are the following directories: Topix, Tupalo, and Yellowise.
Business management, in today's society, compromises store management and online presence. With millions of users every day, the internet has turned from a fad into a necessity. Each of these directories allows the companies information to be easily accessible.
Businesses all over the world can spread their brand while targeting potential consumers. An Important factor for customers is their ability to easily find the product or service they are searching for.
Topix is one of the leading new communities on the web today. In the past two years, it received a top 10 rating from comScore. The website links news from 67,000 different sources to 450,000 news topics.
The Tupalo directory expands across the world including Austria, Netherlands, Denmark, the USA, Poland and more. The creators set their goal on providing a beautiful and top notch experience adventuring in a local neighborhood. The directory reaches out to thousands of people that discover review and share their favorite spots.
Yellowise is a very user friendly website featuring the company's information in an easy to read fashion. Through the use of reviews, consumers can target the best possible company. Potential customers can then read the company's description to see if it accurately projects the type of business they inquire.
About Nuanced Media
Nuanced Media is a full service Tucson web design and Tucson marketing firm. They can be found at 301 N Norton Ave. Tucson, Arizona 85719 and can be reached at 520.261.7764.