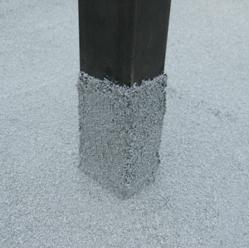 This product is ideal for sealing difficult flashing details, such as an I-Beam or angle iron coming through the roof. It skins over quickly – in hours – and completely cures in 10 to 15 days, which helps reduce project disruptions and duration
Canada (PRWEB) May 17, 2012
Garland Canada recently introduced a new single-component liquid-applied mastic that is durable and easy to apply. Tuff-Flash™ liquid flashing system provides superior water protection and weathering capabilities. It is an asphalt polyurethane that adheres to asphaltic membranes as well as a variety of metal surfaces. This includes SBS, APP, and smooth or mineral surfaced asphalt roofs. It is well suited for complex or irregular roofing details that would present a problem for traditional flashing. The Tuff-Flash system requires no mixing, and can be installed with a brush or trowel.
Tuff-Flash™ liquid flashing is environmentally friendly, having zero VOCs and low odour. It is durable, reflective, and UV resistant (when surfaced). It eliminates the need for a torch or hot kettle, and is easier to work with than two-part products that require exact mixing and have short pot lives. The Tuff Flash system capitalizes on the benefits of both asphalt and urethane chemistries, and actually builds strength over time as it cures.
According to Charbel Boulos, P.Eng., general manager of Garland Canada Inc., "This product is ideal for sealing difficult flashing details, such as an I-Beam or angle iron coming through the roof. It skins over quickly – in hours – and completely cures in 10 to 15 days, which helps reduce project disruptions and duration. A reflective coating can then be applied within 15 to 30 days."
Tuff-Flash™ liquid flashing can be successfully layered with Garland's Grip Polyester® fabric, to add tensile strength and asphalt waterproofing. To prepare modified surfaces for the liquid flashing, gaps in modified surfaces should be sealed with Garland's Green-Lock® Structural Adhesive.
Garland Canada Inc. provides solutions for today's commercial building industry to private and public sector customers coast to coast, with representatives strategically located throughout Canada. Founded in 1987 as a fully owned subsidiary of Garland Industries, Garland Canada is a multi-million dollar business with employees across the country that help stimulate each regional economy by working with an extensive network of locally based roofing contractors to install high-performance roofing, wall, and flooring systems.
For a free roof inspection or for more information, visit http://www.garlandcanada.com or call Marisa Rea at 1-800-387-5991.