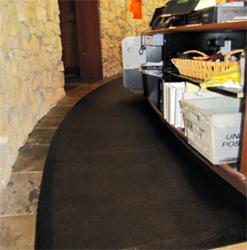 The matting provides an immediate increase in productivity and employee morale due to workplace comfort
Cleveland, Ohio (PRWEB) July 30, 2012
Martinson-Nicholls announces its new TUFF Skin Anti-fatigue Matting that features one of the most durable coatings for a wide variety of commercial and industrial settings. The design reduces back, leg, and foot and ankle fatigue, promoting employee wellness.
The new matting works best in dry applications to provide anti-fatigue comfort and slip-resistant footing. TUFF Skin Matting features:

Textured non-slip surface
Manufactured with virgin Ortho Mat closed cell NBR sponge
Seamless topcoat to avoid mat separation and tripping
High heel friendly
Easy to clean surface
Chairs and carts roll over this mat with ease
Non-allergenic, latex, and silicone free
Ortho TUFF Skin Mats are complete with a 2" safety bevel on all sides for ease of cart traffic and added safety
According to company president Dan Ruminski, "The matting provides an immediate increase in productivity and employee morale due to workplace comfort."
TUFF Skin Matting is offered in black, red, yellow or gray, and comes in standard mat sizes of 2 x 3 feet, 3 x 3 feet, 3 x 4 feet, and 3 x 5 feet. Martinson-Nicholls offers custom sizes to fit larger areas or floor shapes.
TUFF Skin Matting is intended for applications such as industrial work cell/stations, hotel front end departments, security and ticket booths, cashier and counting cages, gyms and golf service areas, table top mats, stand up forklift pads, equipment box liners, entrance mat, pools or locker room areas.
About Martinson-Nicholls
Martinson-Nicholls, has established itself as a leader in custom anti-slip tape, floor mats, and eco-friendly products for more than 25 years.
Martinson-Nicholls provides the customer with the exact size matting needed--small, large, standard, nonstandard, special shapes and logos. Custom installations are also a specialty of the company.
Anti-slip safety tapes and treads are available in various sizes and textures from hand cut or die cut pieces to full rolls and special shapes. For more information, please visit http://www.floormat.com.