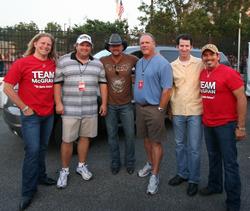 San Diego, CA (Vocus) June 25, 2008
The ING Philadelphia Distance Run announced today that The Tug McGraw Foundation (TMF), founded in honor of legendary Philadelphia Phillies' pitcher Tug McGraw to raise funds for brain cancer research, is now an official charity partner of this year's race, which will take place on September 21, 2008.
"Philadelphia meant as much to Tug as he meant to the city, and we hope everyone is ready to suit up and run the through the streets of Philadelphia with Team McGraw," said TMF Honorary Chairman, Tim McGraw, Tug's son and a GRAMMY® Award-winning musician.
Tug McGraw is remembered not only for his zany antics and his screwball, but for the passion with which he played the game. A hero to Philadelphians and to baseball fans everywhere, Tug led the Phillies to their World Series Championship with his rallying cry, "Ya Gotta Believe."
Members of Team McGraw and representatives of the Philadelphia Phillies, including ESPN commentator John Kruk and Tug's former teammate Greg "The Bull" Luzinski, still a fan favorite and owner of Bull's Barbecue at Citizens Bank Park, will run to raise awareness and funds for both TMF and Phillies Charities, Inc.
"We are so pleased Team McGraw and the Tug McGraw Foundation are partnering with the ING Philadelphia Distance Run this year," said Adam Zocks, General Manager of the event. "Over its 31-year history the event has become one of the premiere half marathons in the country. This year's race will be no different as runners from throughout the world will once again take to the streets of Philadelphia and benefit a great cause in the Tug McGraw Foundation."
The ING Philadelphia Distance Run has been one of the most popular and respected half marathons in the country for over 30 years. The 13.1 mile scenic course showcases many of the city's celebrated and historic sites. In addition to the picturesque course that traverses Center City and the roads along the Schuylkill River, the race features live bands performing on stages along the route and races for children between the ages of three and twelve.
For more information about running with Team McGraw, including registration details and information on a special discount for Team McGraw runners, please visit http://www.teammcgraw.org.
For more information about the ING Philadelphia Distance Run, please visit http://www.ingphiladelphiadistancerun.com or call 800/311-1255.
About the Tug McGraw Foundation
The Tug McGraw Foundation was established to raise funds for pioneering brain tumor research, increase public awareness of the disease, and support students who exemplify leadership and Tug's inspiring "Ya Gotta Believe" spirit. For more information about the Tug McGraw Foundation, please visit http://www.tugmcgraw.org.
Brain tumors are the leading cause of death from solid tumors in children under age 20 and the third leading cause of all cancer deaths in young adults ages 20 to 39. Over the past 10 years, brain tumor research has advanced significantly, yet the reality of living with a brain tumor remains the same. Brain tumors may alter thought, emotion, memory, movement and language. Quality of life research is recognized as a needed component of brain tumor care.
About Phillies Charities, Inc.
Phillies Charities, Inc. is the charitable arm of The Phillies baseball club. It raises funds in a variety of ways, including at the annual Phillies Phestival carnival held at Citizens Bank Park as well as several other events held throughout the year. In addition to supporting the Philadelphia chapter of the ALS Association, Phillies Charities provides dozens of small and large grants each year to mostly-local non-profit organizations and charities. Some of the organizations that have benefited in the last several years include the Police Athletic League, Philadelphia Reads, Philadelphia Futures, American Heart Association and the Richie Ashburn Foundation.
About Elite Racing Inc.
Based in San Diego, Calif., Elite Racing, Inc. is a division of Competitor Group, Inc., which includes endurance sports publishing leaders Competitor Magazine and Triathlete Magazine. Elite Racing produces world-class road racing events for runners and walkers throughout the United States. Its signature Rock 'n' Roll Marathon Series began in 1998 with the Rock 'n' Roll Marathon in San Diego. Over the past 10 years, the sports marketing and management company has grown to manage a total of seven marathons and half marathons including the P.F. Chang's Rock 'n' Roll Arizona Marathon & ½ Marathon in Phoenix, Scottsdale and Tempe, the Country Music Marathon and ½ Marathon in Nashville, Tenn., the Rock 'n' Roll San Antonio Marathon & ½ Marathon in San Antonio, Tex., the Rock 'n' Roll Half Marathons in Virginia Beach, Va. and San Jose, Calif., and the ING Philadelphia Distance Run. Events feature live bands on entertainment stages and cheerleaders at every mile along the course and attract between 13,000 and 37,000 participants.
In addition, Elite Racing also produces the Carlsbad 5000. Known as the "world's fastest 5K," the Carlsbad 5000 is home to 16 world best times at the 3.1-mile distance and welcomes over 10,000 runners and walkers to the streets of Carlsbad, Calif. annually.
For more information about Elite Racing's events visit http://www.eliteracing.com.
Contact: Ritz Communications on behalf of Tug McGraw Foundation
Mike Beyer – 773/463-4211, mike.beyer @ ritzcommunications.com
Patty Keiler – 312/550-5394, patty.keiler @ ritzcommunications.com
Contact: Elite Racing, Inc.
Dan Cruz – 800/311-1255, dcruz @ eliteracing.com
Wendy Zocks – 310/231-0444, wendy @ wendyzockspr.com
Kim Detwiller – 615/321-4073, kimdet @ comcast.net
# # #