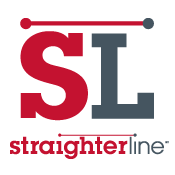 By including StraighterLine in EdAssist's partner college network, EdAssist is helping corporations and students get more bang for the tuition reimbursement buck.
Baltimore, MD (PRWEB) May 15, 2013
StraighterLine (StraighterLine.com) announced today that EdAssist, a leader in the education management industry and a Bright Horizon Solution at Work, is adding StraighterLine's extremely flexible self-paced online college courses as an option for their clients' employees. The incorporation of StraighterLine's online college courses into EdAssist's Education Network allows their clients' employees to earn a degree on their own time while balancing workplace and lifestyle commitments.
"By including StraighterLine in EdAssist's partner college network, EdAssist is helping corporations and students get more bang for the tuition reimbursement buck," says Burck Smith, CEO and founder of StraighterLine.
EdAssist's clients benefit by being able to provide additional educational options and career advancement opportunities for their employees. StraighterLine's affordable online college courses allow students to save up to 90 percent on tuition for the first year of college, providing EdAssist clients' employees an affordable way of earning a degree. Course credits transfer to StraighterLine's partner colleges and universities or through the ACE Credit service.
"EdAssist's Education Network is the largest network of educational institutions in the industry. By addingStraighterline to our network, we are able to further expand the flexible education options for our clients' employees, giving them an innovative resource that fits their career goals, lifestyle, and their objectives. StraigherLine takes a new approach to the way they offer courses, potentially shortening time to completion and lower costs to the adult learners we serve," said Jessica Corlett Kaplan, EdAssist's Director of Network Relations.
StraighterLine offers entry-level college courses online in Business, English, Humanities, Math, Science and Foreign Languages, as well as College Prep. In addition, StraighterLine offers a wide variety of CBEs (credit-by-examination) that allow students to earn college credit based on test scores.
About EdAssist
EdAssist ( edassist.com ) is a leading provider of comprehensive managed education solutions, helping companies and their employees maximize their education assistance resources through individualized education and financial advising, expert administration, and a robust network of fully accredited educational institutions.
EdAssist clients represent a wide range of industries, such as healthcare, insurance, financial services, telecommunications, aerospace, high technology, consulting, and manufacturing. EdAssist is one of Bright Horizons' Solutions at Work.
To learn more about EdAssist visit them at: http://www.edassist.com/
About StraighterLine
StraighterLine has been recognized as a revolutionizing force in lowering the cost of college education by major news organizations and the U.S. Chamber of Commerce for offering students online courses that earn real college credit for just $99 a month. Inside Higher Ed recognized StraighterLine for offering the "...lowest-cost set of credit-bearing courses on the Internet." And Fast Company named StraighterLine one of the "10 Most Innovative Companies in Education."
In order to facilitate the award of credit, StraighterLine has forged partnerships with leading accredited online colleges and universities. A student ultimately earns a degree from those institutions but realizes tremendous savings and convenience by starting with StraighterLine.
StraighterLine's courses are evaluated and recommended by the American Council on Education's College Credit Recommendation Service (ACE CREDIT), which includes over 1,800 participating colleges and universities. In addition to the institutions with which StraighterLine has a direct relationship, more than 350 other schools are reported to have accepted StraighterLine coursework for transfer credit.
Currently, StraighterLine offers entry-level college courses online in the Sciences, Humanities, English, Math, Business and Language. Many StraighterLine courses are now offered in both self-paced and professor-led formats. 5 StraighterLine courses have been approved by The College Board to be listed as AP courses. As a pioneer in the movement to revolutionize college for America, StraighterLine also offers alternatives to college courses including Prior Learning Assessments and credit-by-examinations that let students earn college credit for knowledge and life experiences they already possess.
For information, visit StraighterLine.com or call 1-877-str8erline (1-877-787-8375).
###