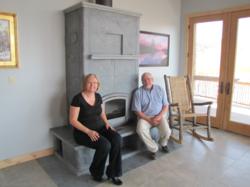 I didn't want a wood stove—it's an object," Tolley explains. "Tulikivis are architectural. It is rock but it's gentle. You want to run your hand over it. You're invited to touch it
Pinedale, Wyoming (PRWEB) November 22, 2012
Nancy and Rob Tolley's Wyoming "natural wonder" home brings the outdoors inside. From nearly every window are views of the Wind River Mountains. The Tolleys artfully integrated natural materials and colors in the design of their home to reflect the outdoors and to achieve a fishing lodge feel.
The most exciting—and remarkably appropriate—natural material in the home is soapstone. Rob Tolley, a professor of anthropology at Indiana University East, says, "It's interesting that we imported soapstone from Finland and Virginia to use in our home given that prehistoric people who lived in the area valued soapstone, carving it into utilitarian vessels and cooking pots."
The Tolleys first glimpsed Tulikivi fireplaces at Chico Hot Springs in Paradise Valley, Montana, and at Nora's Fish Creek Inn in Wilson, Wyoming. "I didn't want a wood stove—it's an object," Tolley explains. "Tulikivis are architectural. It is rock but it's gentle. You want to run your hand over it. You're invited to touch it"
They liked the properties of soapstone so much that they incorporated it into nearly every area of their home. For starters, the Tolley's Tulikivi stove in their great room is positioned so that it efficiently heats their entire 2500 square foot home. Its two sides allow the Tolleys to enjoy its warmth and ambience in their bedroom.
The Tolleys chose complementary soapstone for kitchen counters. A carved fish—in keeping with the fishing lodge theme—is above the stove, serving as a focal point. They also used soapstone throughout their three bathrooms and for a reading nook in their daughter's bedroom. For an inviting extra touch, Tolley is having two soapstone disks custom carved for the front porch: A compass rose will adorn one and an outline of the Wind River Mountains will be carved into the other.
According to Tolley, the fireplace and soapstone surfaces have performed far beyond the their expectations. "Though we have radiant floor heat in the living and kitchen areas, we don't need to turn it on. The Tulikivi easily and efficiently heats their great room as well as the loft where I have an office," says Tolley.
The "fishing lodge" will become their Wyoming home permanently once Tolley retires. He adds: "The Tulikivi is doing a wonderful job of heating our home over the holidays, and warding off the occasional morning chill in the spring and fall. We are really looking forward to a full winter's residence, enjoying the Tulikivi's warmth!"
It's a warmth all generated by Tulikivi and the remarkable power of soapstone.
The Tulikivi Group comprises the Tulikivi Corporation, which is a listed family enterprise, and its subsidiaries. The Tulikivi Group is the world's largest manufacturer of heat-retaining fireplaces. Tulikivi has three product groups: Fireplaces, Saunas and Interior & Design. Tulikivi and its customers value wellbeing, interior design and the benefits of bioenergy. Tulikivi's net sales are roughly EUR 60 million, of which exports account for about half. Tulikivi employs over 400 people. For more information about Tulikivi, please visit http://www.tulikivi.com or follow them on Facebook at http://www.facebook.com/Tulikivi. For the nearest distributor, call 800-843-3473.
Look for Tulikivi on Facebook, Pinterest, and Twitter.