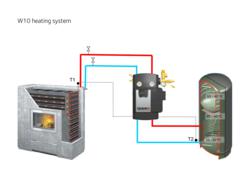 What really makes the W10 Heat Absorber unique is that it's engineered so homeowners can heat a large space while cutting water heating bills.
Juuka, Finland (PRWEB) February 19, 2013
"Almost three quarters of household energy consumption is for heating the home and producing hot water," according to Jeremy Johnson, Tulikivi's marketing and sales manager for North America. "With the new Tulikivi W10 Heat Absorber water heating system, heat can be distributed more evenly throughout the entire home and reduce high hot water heating bills at the same time." Tulikivi will introduce its W10 Heat Absorber water-heating system in North America, at the Hearth, Patio and Barbecue Association Expo next month in Orlando, Florida.
The W10 Heat Absorber further cements Tulikivi's reputation for ongoing product innovation and meeting consumer demand for new, green energy solutions. The Tulikivi W10 Heat Absorber water-heating system consists of a double-walled Tulikivi fireplace and integral water-circulating heat exchanger.
How the Tulikivi W10 Heat Absorber Water-Heating System Works

Water circulates in the heat exchanger, is warmed by the heat retained in the fireplace, and is then fed to other parts of the building for heating purposes and to heat household water.
The heated water from the fireplace is first piped to a hot-water tank, from where it can then be utilized for household heating and as a heat source for the domestic hot water.
The Tulikivi W10 water-heating system is well suited for use as part of a heating system that also incorporates a solar collector and air heat pump as other heating sources.
"What really makes the W10 Heat Absorber unique is that it's engineered so homeowners can heat a large space while cutting water heating bills," emphasized Johnson. "Because the heat is taken directly from the Tulikivi fireplace's gentle heat-retaining and radiant soapstone, the W10 system is safe, and temperatures never reach dangerously high levels," he added. Tulikivi fireplaces already meet the most comprehensive standards for word burning and are UL/ULC listed. The W10 Heat Absorber is pending UL/ULC listing.
An Innovative Option for Green Building with Gentle, Radiant Wood Heat
From the dealer perspective, Tulikivi believes the W10 Heat Absorber will be a welcome addition to their showroom portfolio. "The W10 Heat Absorber gives customers one more reason to trust and rely on the Tulikivi brand for more of their eco-friendly heating needs," notes Johnson. "The W10 Heat Absorber gives additional options for new, 'green building' passive solar, net zero homes to include a wood burning fireplace, without concerns about overheating the interior space the way a woodstove would. Plus, the W10 Heat Absorber has already demonstrated a payback period just 10 to 16 months."
Johnson hopes North American homeowners and builders find the W10 Heat Absorber as attractive as their European counterparts. Johnson adds that in Finland alone, 2013 sales are expected to increase nearly 70% over 2012.
Visit the Tulikivi at Booth #2235 at the 2013 HPBExpo, to be held March 13-16 at the Orange County Convention Center in Orlando, Florida.
The Tulikivi Group comprises the Tulikivi Corporation, which is a listed family enterprise, and its subsidiaries. The Tulikivi Group is the world's largest manufacturer of heat-retaining fireplaces. Tulikivi has three product groups: Fireplaces, Saunas and Interior & Design. Tulikivi and its customers value wellbeing, interior design and the benefits of bioenergy. Tulikivi's net sales are roughly EUR 60 million, of which exports account for about half. Tulikivi employs over 400 people.
For more information about Tulikivi, please visit http://www.tulikivi.com or follow them on Facebook at http://www.facebook.com/Tulikivi. For the nearest distributor, call 800-843-3473. Look for Tulikivi on Facebook, Pinterest, and Twitter.
Note: Interviews and photographs available. Contact Michelle Drager at 484-269-2900 or mdrager@thedragergroup.com.