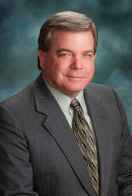 Tulsa, OK (PRWEB) May 03, 2012
Tulsa accident lawyers Dave C. Bean and Jesse L. Fettkether of the Rode Law Firm, PLLC, have secured an "excess" jury verdict for their client in a motor vehicle collision case that was tried before a Rogers County jury.
After nearly 2.5 hours of deliberations, the jury returned an 11-1 verdict on March 6, 2012, awarding the plaintiff $85,000 in damages with a finding of 30 percent comparative negligence. (Case No. CJ-2009-749, In the District Court In and For Rogers County, State of Oklahoma).
The net verdict was $59,500 for the plaintiff, or $9,500 in excess of the defendant's insurance policy limits, according to the Rode Law Firm. The plaintiff claimed $18,926 in total medical bills.
Judge Dynda R. Post presided over the trial.
Dr. Allan S. Fielding, who is board-certified in neurological surgery, testified via video trial deposition on behalf of the plaintiff, stating that the plaintiff had sustained a sprain in the neck and back, a cervical disc injury and a closed-head injury, with significant mental trauma.
The defendant's liability coverage of $50,000 was provided by the Republic Group. Attorney Mark Smiling represented the defendant.
According to the Rode Law Firm, the defendant made an offer on the eve of the trial for $35,000. In response, the plaintiff's counsel demanded the insurance policy limits.
The defendant disputed liability, causation and damages, according to the Rode Law Firm. Dr. Mathew Powers and Dr. John Hasting testified for the defendant.
About The Rode Law Firm
Attorney Robert L. Rode established the Rode Law Firm in 1992 with a focus on helping people who have been hurt in serious accidents, including Oklahoma truck crashes. The firm remains committed to providing aggressive, effective legal advocacy for victims of other people's carelessness, negligence and recklessness. The Rode Law Firm is based in Tulsa and maintains an office in Sapulpa, Oklahoma. The firm's accident attorneys and legal staff serves clients across the state, including Oklahoma City, Norman, Broken Arrow, Lawton, Edmond, Moore, Midwest City, Enid, Stillwater, Muskogee, Bartlesville, Shawnee, Owasso and Ponca City. The firm provides free case evaluations. To learn more, call (918) 599-8880 or use the firm's online contact form.