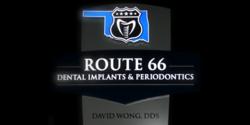 In addition to our portable x-ray unit, our patients have access to the best technology for periodontal care. Our Periolase laser makes treating gum disease as quick, painless, and inexpensive as possible
Tulsa, OK (PRWEB) January 08, 2013
Doctor David Wong and his staff have been serving Tulsa since 2003 at their location on south Harvard Ave. They have recently opened a new office across the street at 4545 S. Harvard as Route 66 Dental Implants and Periodontics.
The new office is over 4,000 square feet, and conveniently located just one half mile north of Interstate 44 at the Harvard Ave. exit.
"Despite the new amenities, our office is all about patient care," said David Wong, D.D.S., P.C. "In addition to our portable x-ray unit, our patients have access to the best technology for periodontal care. Our Periolase laser makes treating gum disease as quick, painless, and inexpensive as possible," said Wong.
The Route 66 Dental Implants and Periodontics web site has a variety of articles and videos about laser gum surgery, gum graft alternatives, and full mouth implants and restoration.
For more information about Doctor David Wong and Route 66 Dental Implants and Periodontics, please visit http://route66implants.com
About Route 66 Dental Implants & Periodontics
Started by Dr. David Wong in 2003, Route 66 Dental Implants & Periodontics has become one of the most trusted names in Oklahoma.
About Doctor David Wong D.D.S., P.C.
Tulsa Periodontist, Dr. David Wong is a native Oklahoman who completed his dental degree at the University of Oklahoma. His advanced training in periodontics was accomplished at the University of Missouri-Kansas City where he served as chief resident and scored a perfect 100% on his in-service examination. Dr. Wong also completed advanced implant and oral plastic surgery training from Temple University as well as from such world renowned institutions as the Misch International Implant Institute and the Dental Implant Institute of Las Vegas.
Since entering into private practice in 2003, Dr. Wong has published articles in the field of oral plastic surgery, and he has also been a guest lecturer at the Oklahoma Dental Association, Oklahoma Dental Hygiene Association, Tulsa Community College, among others. Wong recently received his Fellowship in the International Congress of Oral Implantologists, the only periodontist in Oklahoma to reach this achievement. In addition, in 2005, Dr. Wong became the first Tulsa periodontist since 1969 to be board certified by the American Board of Periodontologists. Dr. David Wong is a member of PRprofile, a website dedicated to helping businesses build a publicity presence online.