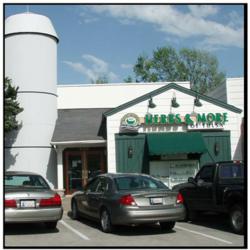 I'ts been amazing with customers and patients from all 50 states and 40 nations including Australia, UK, Canada, Mexico and Lithuania
Tulsa, OK (PRWEB) May 01, 2012
"Daily we receive orders from California, Florida, Texas, Oklahoma and as far away as Japan, Australia, the UK and even South Africa," says COO Jason Timmons.
People are living longer and using natural supplements to stay healthy and feel better. Since the dawn of the Internet, consumers have been taking a hands-on and proactive approach toward their health when it comes to wellness and prevention but also when they receive bad medical news from their Doctor. Many who have been given a terminal diagnosis turn to natural medicine and the Internet to do their own research on Pubmed.gov or other peer-reviewed studies.
"We have people call and email that have been diagnosed with a host of ailments from the mild common cold, asthma, sinus and allergies to more severe conditions like chronic fatigue, IBS, acid reflux and gluten sensitivity and even fibromyalgia and cancer. More people are not just shopping for healthy and organic foods for their families but are also seeing the correlation between correct supplementation and living longer and living healthier," says Timmons.
Timmons goes on to explain the full line of women's products, men's products and children's vitamins, minerals, natural supplements for weight loss, sexual function, mental clarity and preventative wellness, and says, "It's not just runners like marathoners, athletes, and those getting older who need to supplement; our soil is depleted of the nutrition it once had, and we have more stress and toxins in our daily lives to contend with. We are very grateful for the support Tulsa, OK and the Nation has given us over the years and are excited about some up-coming announcements that will give back to our loyal customers and patients."
Herbs and More is the locally owned and operated Tulsa-based location for TheWiseAlternative.com with Jack Wise, Naturopathic Endocrinologist, seeing patients, prescribing natural remedies and working with patients who have been referred by Medical Doctors, Chiropractors, and Osteopathic Physicians and through word-of-mouth referrals. In the Farm Shopping Center 6562 East 51st Street South Tulsa, OK 74145
TheWiseAlternative.com is the 24/7 Internet Website with information on Double-Blind Studies, Breakthrough formulas and access to the most up-to-date information about case-specific health-related issues. Visit TheWiseAlternative.com and on Facebook for Natural Health & Wellness.
Press Release submitted by M3 New Media, Tulsa, OK based Online Social Media & Digital PR Firm.