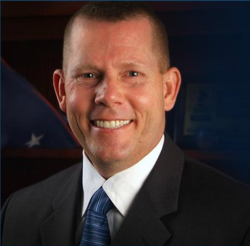 As I have mentioned while visiting with voters across the district, it's not enough that our State Senator has an 'R' next to his name
Tulsa, OK (PRWEB) April 19, 2012
"As I have mentioned while visiting with voters across the district, it's not enough that our State Senator has an 'R' next to his name," said McDugle, referring to current Senator Crain, who has consistently been rated as the most liberal GOP Senator in the Oklahoma State Senate.
"We need a State Senator who will consistently fight for faith, family, and freedom... Because that's what it means to be a Republican," continued McDugle.
Kevin is a lifelong Oklahoman who served in the Marine Corps for 8 years. He is also the founder and CEO of Lawyer Marketing Services, which operates out of Tulsa, OK.
When asked what his top priority will be if elected McDugle replied, "Obamacare."
McDugle continued, "This is no longer a federal issue. Just a few weeks ago, Senator Crain joined with several other senators to implement Obamacare Health Exchanges here in Oklahoma. And that's just another reason why Senator Crain is not as conservative as he professes."
McDugle, who plans to legislate as a Constitutional Conservative, cites Senator Crain's liberal voting record as the main reason he chose to challenge the incumbent in the 2012 GOP Primary. "We deserve better, and that's why I am running to be your next state Senator," said McDugle.
Kevin and his wife of 9 years, Tosha, have 5 children. They live in Tulsa, OK and attend Church on the Move, where Kevin is an usher.
Kevin can be followed on Facebook at Facebook.com/kevinforoklahoma
Kevin on Twitter http://twitter.com/#!/kmcdugle
Press Release submitted by M3 New Media, Tulsa, OK
###