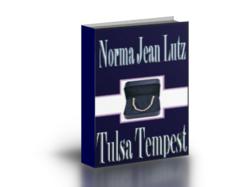 A definite page-turner in every sense! It's a great historical read that is entwined with a sweet romance.
Tulsa, OK (PRWEB) August 03, 2012
Tulsa Tempest centers on the life of a young country girl, Tessa Jurgen, who finds herself living in the progressive city of Tulsa, Oklahoma at the height of the oil boom. Serving as governess to the children of a local oil baron, Tessa becomes friends with the domestic help in the household, all of whom are black. She soon learns that not everyone sees her new friends in the same light as she does.
Beneath the glittering facade of oil-rich Tulsa simmered a cauldron of racial unrest which ultimately reached a zenith in the event now known at the infamous Tulsa Race Riot. In a span of eighteen hours from May 31, to June 1, 1921, occurred the single worst incident of racial violence in American history. By the time the hostilities ceased, the state's second-largest African American community had been burned to the ground. And young Tessa is unwittingly enmeshed in the center of the raging violence.
"Researching story material in my own home town of Tulsa was a joy," says Norma Jean, author of over 50 published books. "The story of Tessa Jurgen is timeless. Many satisfied readers loved Tessa when the books were first published in the 90s; I'm confident legions of new readers will feel the same way."
Tulsa Tempest is now released and can be downloaded on your favorite e-reader.
About Be A Novelist and Norma Jean Lutz
Aspiring novelists wanting to receive support, education, and encouragement can do so by taking advantage of this veteran author's insight, wisdom, and experience. Author of more than fifty published books, writing instructor, and novel critique consultant, Norma Jean has now developed the Be A Novelist Six-Month, Finish-My-Novel Challenge writing course to help beginning novelists. http://www.beanovelist.com/finish-my-novel.html
Tulsa Tempest is now available on Amazon Kindle. http://goo.gl/DHlk0
Contact:
Be A Novelist
Norma Jean Lutz
8703-R North Owasso Expy
Ste. 143
Owasso, OK 74055