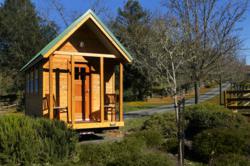 Americans cannot be expected to buy more house than we need.
Bodega Bay, CA (PRWEB) January 07, 2012
On January 15th of 2012 the Tumbleweed Tiny House Company is holding an open house from 1:00 to 3:00 pm. The event is held at Port O'Bodega, 1500 Eastshore Rd., Bodega Bay, CA 94923. Tumbleweed Tiny House Company will have the Lusby model on display. Both the media and public are invited to attend the event, walk through the home, and ask several questions on the concept of tiny homes and their benefits.
Tumbleweed Tiny House Company has set up several events around the US, such as the one on January 15th, as an introduction to his company but more importantly as an introduction to the tiny house movement. For the Bodega Bay Open House, Pepper Clark and Dylan Pankow will speak to attendees. Clark and Pankow own, and are selling, the Lusby model on display. Clark attended her first Tumblweed Tiny House Company event in 2008. Inspired by the homes and the movement, Clark began building tiny homes and quickly turned the concept into a business.
"People should be allowed to live as simply and frugally as they please. Bank lending policies that put people into more house than they can afford have been a burden to all of us, in terms of the resulting foreclosures, bank bailouts and global economic strife," says Jay Shafer. "Americans cannot be expected to buy more house than we need."
Tumbleweed designs and markets houses that range from 65 square feet to 874 square feet. All Tumbleweed Tiny House Company homes are contrived of natural materials, such as pine walls. Each open house event draw interest from a diverse demographic of people, especially individuals who have heard of the Small House Movement but haven't seen a tiny home in person. Each attendee has the opportunity to tour, and even purchase, the home on display. Representatives from Tumbleweed Tiny House Company are always on hand to discuss the movement, how to build a home from the ground up, and most importantly the right to affordable home ownership.
Tumbleweed Tiny House Company isn't just a business, it is a movement! With over twenty models to choose from, the company designs and builds homes with a socially responsible platform. Tumbleweed was founded by tiny house guru Jay Shafer who is a recognized leader in popularizing the tiny homes concept. For more information on the company, Jay Shafer, and to view the homes, please visit: http://www.tumbleweedhouses.com
To RSVP to this event or request a media kit please contact brett(at)tumbleweedhouses(dot)com or call him at (877) 331-8469 x 2.
To submit an interview request, please contact pepper(at)tumbleweedhouses(dot)com or call her at (877) 331-8469 x 81
###