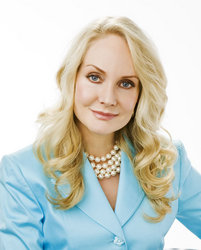 There are many reasons why moms come to me for help
Glendale, AZ (Vocus) July 13, 2009 -–
Board certified, Phoenix plastic surgeon, Dr. Heidi Regenass, and her all female staff understand the effects of pregnancy on a woman's body. That's why for tummy tuck, Phoenix moms go to Dr. Heidi.
"There are many reasons why moms come to me for help," says Dr. Heidi. "Some have decided it is time to go back to work which is a stressful and emotional time for a mom. They can walk into their interview polished and comfortable in their body."
"For my patients who are moms, in an office or who work hard at home, a tummy tuck gives them all a tremendous boost to their confidence."
Pregnancy stretches the skin and abdominal wall. Particularly after several pregnancies, the abdominal area stops bouncing back to its pre-pregnancy shape. Sagging skin can ruin the fit of clothes and make mom want to cover-up at the beach and put a damper on summer fun.
"Summer is an ideal time for surgery. After a few weeks of recovery, you will still have time to enjoy the summer fun and activities," adds Dr. Heidi.
For a tummy tuck, Phoenix moms should know that it is a very common procedure, particularly with moms. It works by making incisions around the pubic area and pulling the skin taut. The excess is cut away, the navel is relocated if needed and the skin is reattached. The result is a flatter, smoother stomach – great for your swimsuit!
There is no reason why Moms have to settle for the body pregnancy has left them with. In addition to abdominoplasty, Dr. Heidi can take the results to the next level by adding liposuction, breast augmentation or breast lift to the procedure for a complete mommy makeover.
Depending on the amount of skin and size of the area that needs attention, results can be seen in as little as 4 weeks as the swelling subsides. So, if the motivation is to get into that bathing suit for the hot Southwest summer, there is still time.
Phoenix plastic surgeon, Dr. Heidi, is dedicated to the total well-being of her patients. "Everyone who works here at the clinic has had some form of cosmetic procedure, so we are very understanding and sensitive to our patients' feelings and thoroughly address their questions and fears," says Dr. Heidi.
"I strive to give all of my patients the very best of me and my staff," says Dr. Heidi. "Moms who are seeking a tummy tuck to improve their self-esteem and confidence for summer can count on us for the best results."
For more on tummy tuck, Phoenix surgeon, Dr. Regenass, provides procedure information and before and after images online at http://www.drheidi.com . You are invited to contact Dr. Heidi by calling her office at 602-843-0211 or by simply filling out the form on her website.
About Dr. Heidi Regenass:
Born in Zimbabwe, Heidi Regenass, M.D. brings an international flair to cosmetic plastic surgery. As a board certified plastic surgeon, Dr. Regenass performs a variety of plastic surgery procedures for both men and women to help them achieve their desired cosmetic result.
Dr. Regenass is one of the few female plastic surgeons practicing in Phoenix, Arizona. She received her medical degree from the University of Utah. The prestigious Mayo Clinic is where Dr. Regenass performed her General Surgery residency. Following this she further specialized in her chosen field of Plastic Surgery and completed a Plastic Surgery residency at the University of Utah.
Prior to her medical training, Dr. Regenass earned a Master of Science degree in Health Education and worked as a health and wellness specialist in the United States and Southern Africa. In Southern Africa, she owned her own corporate wellness company that provided employee and executive health programs to multinational companies.
###