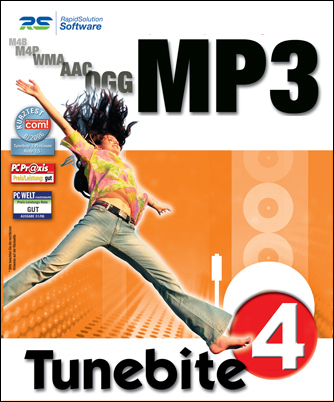 Fort Worth, TX (PRWEB) December 14, 2006
RapidSolution Software today announced the release of Tunebite Version 4, the latest edition of its popular software that allows users to play legally acquired audio and video files on any multimedia device -- free from the limitations created by copy protection measures. A free demo of the new release, which contains numerous new functions and enhancements, is available for download at http://www.tunebite.com.
Tunebite 4 multiplies processing speed
First released in 2004, Tunebite's internationally award-winning approach allows users to play copy-protected music, audio books and videos in software players supporting copy-protection formats, and to simultaneously record and save them as unprotected copies intended for private use. Tunebite's previous versions already offered consumers the ability to quickly free themselves from the evils of copy-protection with ultra-high recording speed. Tunebite 4 now offers the ability to automatically record multiple copy-protected audio files in parallel, effectively multiplying processing speed. In a recent comparison test, ten copy-protected WMA music tracks, each with an average length of four minutes, were recorded on a 3.2 GHz PC. Tunebite 4 shortened the processing time from 12.5 minutes to just short of three minutes.
Numerous new functions for Tunebite's Premium and Platinum editions
Tunebite 4 Premium is designed for users who need to convert copy-protected music and audio book files. The software supports the copy-protection formats WMA, M4P and M4B, as well as AA/AAC. Tunebite 4 Platinum additionally converts video files copy-protected by the WMV and M4V formats.
Support for output in the WAV format has been added to existing support for output in the MP3, WMA and OGG audio formats. Fully-editable ID3 tags, album cover artwork and lyrics are now populated by an automatic search agent. A new Mini Player allows users listen to music and view the corresponding album cover artwork and lyrics at the same time. A new CD burning function has now been built into all Tunebite Editions, making it easier than ever before to burn copied music tracks onto audio and MP3 CDs that can be used in any car stereo. A new synchronization function for Apple iPods, MP3 players, PDAs and mobile phones is also onboard. Content on these devices can now be intuitively managed, allowing users to easily take their music tracks, audio books and videos with them on-the-road.
Rounding off the many new features in Tunebite 4 is a mobile phone ring tone generator that creates standard ring tone formats from music that has been freed from copy-protection. Teenagers and children no longer need to be easy prey for rip-off ring tone subscription services.
A free Tunebite compatibility update is planned to coincide with the release of Microsoft Windows Vista for private users.
Tunebite 4 Platinum with built-in 3ivx encoder brings videos to mobile devices
This year's pre-Christmas holiday season has already been flooded with retailers touting video-enabled mobile devices and the latest-generation of mobile phones. Unfortunately, videos protected with DRM formats won't play on these devices. Tunebite 4 Platinum, which boasts a full range of audio and video functions and includes an integrated 3ivx encoder, has been especially designed with users of video-enabled mobile devices in mind.
Using Tunebite 4 Platinum, PCs with processors running at 2 GHz can convert copy-protected videos into unprotected, mobile videos at the resolutions of 176x144 and 320x240. More powerful PCs with processors ranging from 2.3 to 2.6 GHz can generate the resolutions 480x360 and 640x480, depending on format. High-end PCs running at 3.2+ MHz can even achieve the DVD resolution of 720x576. Using its integrated 3ivx encoder, Tunebite 4 Platinum automatically and legally converts copy-protected WMV and M4V videos into unprotected MPEG-4, WMV and MP4 videos that can be played on any mobile multimedia device or PC.
About RapidSolution
RapidSolution Software AG is a leading company in the production of entertainment software. Solutions of RapidSolution are online at http://www.audials.com or in specialized trade available. Known brands are: Tunebite, Radiotracker, Podspider and Tagrunner.
# # #