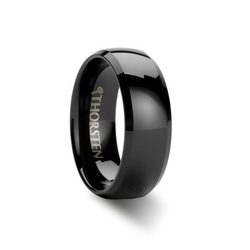 Irvine, CA (PRWEB) August 31, 2009
Larson Jewelers has unveiled their ''Free engraving for all wedding bands''. For a limited time, couples can test their latest feature, an engraving tool that allows couples to create their engraving on the fly and visually inspect their engraving before they receive their rings. To encourage couples to use the engraving tool, Larson Jewelers is excited to offer free engraving on all rings purchased between now through September 22, 2009.
Few jewelers offer engraving, while Larson Jewelers offers both traditional etched engraving and new laser engraving. Laser engraving is a new technology that burns your engraving onto the surface of a ring, without removing material. The inside of the ring feels smooth as if there were no engraving. For traditional engraving, Larson Jewelers carries diamond tipped engraving tools that can be used to engrave all wedding bands. This allows both traditional and laser engravings on any type of metal such as tungsten rings, palladium wedding bands, gold, etc. Only at Larson Jewelers, are couples able to have their tungsten carbide rings engraved either traditionally or via laser engraving. "We are excited to not only offer couples the convenience by allowing them to see what their engraving will look like right on our website, but also to be able to offer the customer more choice when it comes to the engraving they want, and we want couples to try it out on us by offering them free engraving until the end of summer." says Jonathan Larson the founder of LarsonJewelers.com.
Thorsten Rings
Larson Jewelers is proud to carry Thorsten's line of tungsten wedding bands. Thorsten Rings makes their tungsten wedding bands from the highest grade of tungsten carbide available for jewelry and are made to have the best craftsmanship on the market. Thorsten's ring designs are modern and take the wearer's comfort into account. Many generic manufacturers cut costs by rushing through the manufacturing process. This exposes the market to tungsten rings that are too thick and uncomfortable to wear, asymmetrical (one side of the ring is different from the other), have sharp edges and inaccurately sized too large. ''Thorsten is known for their attention to detail and it can be seen immediately when looking at a Thorsten ring. The rings are comfortable to wear, symmetrical, smooth to the touch and precisely machined. We have been searching for a high quality manufacturer that specializes in tungsten jewelry and has the latest styles, like black tungsten rings for example.'' says Larson.
All Thorsten Rings come with a truly free manufacturer backed lifetime warranty. This warranty protects the consumer if the ring breaks, cracks or is defective in anyway. The ring will be repaired or replaced free of charge. Couples are only obligated to send the wedding band back to the jeweler. ''Many retailers charge a fee to replace defective rings because their manufacturers cannot stand by the quality of their products,'' says Larson. Thorsten is so confident in the quality of their rings, they back all of their rings with a truly free lifetime warranty and lifetime sizing.
Thorsten Rings are available in a variety of styles from casual daily to formal wear. Larson Jewelers now carries a large selection of black tungsten rings, highly polished traditional tungsten wedding bands and tungsten rings with a carbon fiber inlay.
About LarsonJewelers.com:
LarsonJewelers.com provides a wide selection of tungsten rings, palladium rings, platinum wedding bands and both gold and white gold wedding rings. At Larson Jewelers, we strive to provide the best customer service to make your shopping experience hassle free and informative. ''Besides offering great products and great service, LarsonJewelers.com also offers the best prices,'' says Larson. ''In fact, if you can find a better price, not only will we match it, we will beat it.''
Until the end of summer, customers can use coupon: SUMMER10 to take an additional 10% off any of their products including the new Thorsten line.
###