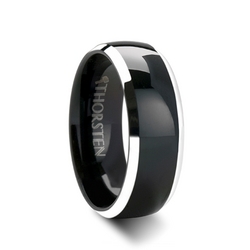 Mokume Gane is yet another line of wedding rings that allows our customers to have a wedding ring that is not your normal wedding ring
Irvine, CA (PRWEB) September 28, 2009
Larson Jewelers has become the largest retailer of High Quality Tungsten Rings online with their newest arrivals from the Thorsten Rings collection. The expanded product lines include black tungsten wedding bands, mokume tungsten carbide rings, inlay tungsten rings and much more. The Thorsten Rings collection was designed for couples who appreciate high quality tungsten wedding bands that are durable and well designed.
Larson Jewelers' black tungsten rings are made by Thorsten Rings, one of the finest manufacturers of tungsten wedding bands in the market. All Thorsten Rings from the Black Tungsten collection are produced through a revolutionary manufacturing process and boasts the strongest black tungsten in the market. Each ring features a beautiful onyx-like color and has a smooth shiny surface. Larson Jewelers carries multiple styles, such as domed, beveled, diamond faceted, and two-tone black tungsten wedding rings.
Larson Jewelers now offers a complete line of inlay tungsten ring styles. Inlay tungsten rings have a channel in the center of the ring that is filled with precious metal or combination of precious metals. Inlaid tungsten rings appeal to couples who want the durability of tungsten and the luxury of precious metals. The most basic styles are inlays of one type of metal. Larson Jewelers inlaid tungsten rings come with silver, gold and platinum inlays. Palladium, Rose Gold and White Gold are available upon request. Each one of these precious metals is available in any style of ring, including domed, flat, beveled, grooved, raised center and satin raised center.
One of the fastest growing types of inlays is Mokume Gane inlaid tungsten bands. Mokume Gane is an ancient Eastern metal working technique that combines thin layers of different precious metals together to form a beautiful and unique pattern that simulates the grain in wood. "Mokume Gane is yet another line of wedding rings that allows our customers to have a wedding ring that is not your normal wedding ring," says Jonathan Larson, founder of LarsonJewelers.com.
Known for their modern designs and craftsmanship, Thorsten Rings take the wearer's comfort into account. The rings all feature comfort fit design so their rings glide on and off the finger easier. Each ring is precisely machined, symmetrical and smooth to the touch.
All Thorsten Rings come with a truly free manufacturer backed lifetime warranty. This warranty protects the consumer if the ring breaks, cracks or is defective in anyway. The ring will be repaired or replaced free of charge. Couples are only obligated to send the wedding band back to the jeweler. ''Many retailers charge a fee to replace defective rings because their manufacturers cannot stand by the quality of their products,'' says Larson. Thorsten is so confident in the quality of their rings; they back all of their rings with a truly free lifetime warranty and lifetime sizing.
Thorsten Rings are available in a variety of styles from casual daily to formal wear. Larson Jewelers also carries additional styles from carbon fiber inlaid tungsten wedding rings, laser engraved tungsten carbide bands and multi-faceted tungsten bands.
About LarsonJewelers.com:
LarsonJewelers.com provides a wide selection of tungsten rings, palladium rings, platinum wedding bands and both gold and white gold wedding rings. At Larson Jewelers, we strive to provide the best customer service to make your shopping experience hassle free and informative. ''Besides offering great products and great service, LarsonJewelers.com also offers the best prices,'' says Larson. ''In fact, if you can find a better price, not only will we match it, we will beat it.''
For a limited time, LarsonJewelers.com is offering $30 saving for any purchase. To receive this promotion, use coupon: FALL30 to take an additional $30 off select products.
###