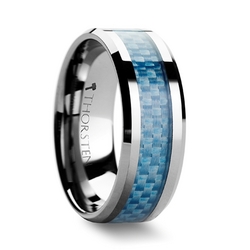 Larson Jewelers is extremely excited to be carrying this exclusive line of black diamond tungsten carbide rings and all other new ring styles from Thorsten Rings
Irvine, CA (PRWEB) June 14, 2010
Larson Jewelers has just unveiled many new tungsten ring styles, just in time for Father's Day. Many of these styles are exclusive to Larson Jewelers only. This makes it a great opportunity for all Dads to finally replace that old worn out wedding band with something new, exciting and durable, such as tungsten wedding bands.
Carbon Fiber Tungsten Ring Styles
Many of the new styles are the increasingly popular tungsten and carbon fiber inlaid rings. Larson now carries Thorsten Rings' entire carbon fiber line. The classic black or white carbon fiber styles used to be available in 8 mm wide only, but is now available in 6 mm wide, sizes 4.0 - 12.5. This means that couples who would like to have matching pairs of carbon fiber style rings may now do so. One of the most popular styles in America is the ultra high tech white carbon fiber and black ceramic ring. This ring combines the two lightest materials used in the jewelry industry today to form one of the most striking yet affordable pieces for men. Few retailers even carry tungsten with carbon fiber, and if they do, they only have black or white carbon fiber styles in 8 mm wide only. Larson Jewelers also has colored carbon fiber styles. The Augustus Blue Carbon Fiber Inlay Tungsten Carbide Band features a beautiful light blue carbon fiber style and the Aurelius Black & Red Carbon Fiber Tungsten Ring with hints of red in it to really make you stand out from the crowd.
Celtic Ring Styles
Larson Jewelers has also expanded its offerings in the ever popular laser engraved knot and several other Celtic style tungsten rings. Their popular 8 mm styles are now available in 6 mm wide as well, giving couples the opportunity to have a matching set. The Celtic knot, which symbolizes the never ending love between two people, is laser engraved onto the surface of a tungsten ring. Because of tungsten's scratch resistance, the Celtic knot pattern will never wear off, thus, truly symbolizing infinite love.
Black Diamond Styles
One of the newest and most anticipated styles is the Black Diamond and Tungsten Ring by Thorsten Rings. Black Diamonds have recently soared in popularity as a stone used in men's rings. This is because they are viewed as masculine and tough. Combining the two toughest materials in the jewelry industry was an easy decision and Thorsten has designed it in a simple yet elegant way by creating their raised satin center style tungsten ring that has a single generous sized 0.1 ct round cut black diamond.
"Larson Jewelers is extremely excited to be carrying this exclusive line of black diamond tungsten carbide rings and all other new ring styles from Thorsten Rings," says Jonathan Larson, founder of LarsonJewelers.com.
About LarsonJewelers.com:
LarsonJewelers.com provides a wide selection of tungsten rings, palladium rings, platinum wedding bands and both gold and white gold wedding rings. At Larson Jewelers, we strive to provide the best customer service to make your shopping experience hassle free and informative. ''Besides offering great products and great service, LarsonJewelers.com also offers the best prices,'' says Larson. ''In fact, if you can find a better price, not only will we match it, we will beat it.''
From now until June 21st, customers can use coupon: GIFT10 to take an additional 10% off any of their products including the new Thorsten line.
# # #