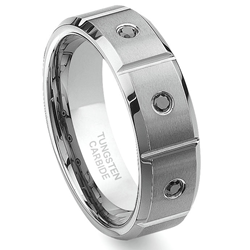 (PRWEB) October 26, 2009
Los Angeles What does the First Lady Michelle Obama and the celebrities Mark Anthony, Cate Blanchett and Steve Smith have in common? Each one has appreciated the rare and unique beauty of black diamonds, which has gained a tremendous amount of popularity as the "nouveau chic" trend in jewelry. Today the prestigious online jeweler Titanium Kay headquartered in Los Angeles, unveiled its newest men's jewelry collection of stunning tungsten carbide black diamond rings designed to add radiance to personal fashion style.
The allure of colorless diamonds is legend; these treasures from Earth's bounty are formed from carbon by millions of tons of pressure hundreds of miles below the surface. It takes volcanic power to bring diamonds to the areas of the earth where they are mined. Natural black diamonds are also called or "Carbonado" diamonds (from Portuguese meaning "burned" or "carbonized"), are truly rare and highly coveted for several reasons. In a report from Live Science, there is new evidence that suggest that black diamonds are not only unique in color, but in the way they are created as well, which challenge the rules of how minerals are formed on earth. In scientific tests at the Florida International University, the amount of hydrogen in black diamonds suggests that they are the result of a supernova explosion. In addition, because black diamonds are never found in typical mining fields, it's believed that they arrived inside meteorites that fell to Earth millions of years ago.
This celestial connection has been accented by the artistic jewelry designers at Titanium Kay; combining the fascinating sparkle of black diamonds with tungsten carbide to create a remarkable men's wedding ring collection that is at once elegant and understated. Tungsten carbide black diamond band rings have unsurpassed hardness and durability, the two most important characteristics for lasting beauty in jewelry. These 8mm, bezel-set rings weigh 15 grams; each has three black diamonds with a total carat weight of 0.17. Virtually maintenance free, tungsten carbide black diamond rings are the perfect complement to a man's active lifestyle and will look as beautiful in 10 years as the day it was first worn.
Attention to detail is the trademark of Titanium Kay jewelry and superbly demonstrated in this new men's collection of tungsten rings. The same criteria in regards to the "4Cs" are applied; the master jewelers take special care in selecting black diamonds with the highest grade of color, carat, cut and clarity for these beautiful designs. However, because black diamonds are heavier than their colorless counterparts, a black diamond of the same carat weight may appear smaller to the naked eye than a colorless diamond.
The men's collection of tungsten carbide black diamond rings at Titanium Kay continues the tradition of excellent quality matched with superior value, supported by responsive customer care. Each design is superbly crafted to withstand the test of time beautifully.
###