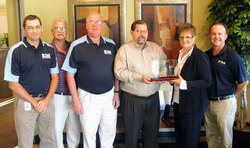 Indianapolis, IN (Vocus) October 12, 2010
Mi-Tech Metals, Inc., a veteran-owned small business, has been presented with Bell Helicopter's most prestigious supplier award—Premier Supplier. Mi-Tech Metals, founded in 1978, is one of the world's leading manufacturers of Tungsten Alloy and Tungsten Composite materials. Mi-Tech Metals' selection is in recognition of their superior manufacturing processes and world-class quality standards. AJ Bir, President of Mi-Tech Metals, proudly accepted the award at an employee luncheon in Indianapolis. Bell Helicopter's Lee R. Nicewonger, Commodity Manager, and Rik Greene, Supplier Manager, presented and congratulated the Mi-Tech team.
In order to qualify for the Premier Supplier status, Mi-Tech Metals linked numerous requirements that included: AS9100 Certification, On-Time Delivery of 98%, and an "Outstanding" score on a cross-functional audit. Additional achievements included: Six Sigma Projects, Lean Manufacturing Initiatives, Value Stream Mapping, 5S, and Kaizen events.
Founded in 1935, Bell Helicopter, a Textron Inc. company, is an industry leader with unmatched name recognition. Bell Helicopter was the first to obtain certification for a commercial helicopter, and over its history, Bell has delivered more than 35,000 aircraft to its customers around the world.
Mi-Tech Metals, Inc. uses its strong alliances with reputable tungsten metal powder sources to consistently provide stable tungsten metal alloys and copper, silver, and tungsten metal composites of the highest quality. Tungsten metal alloys and composites can be found in a wide range of industries and applications today—from health care to aerospace, from tooling to homeland security.
###