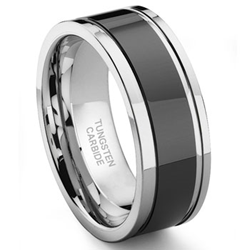 This is a milestone event for Titanium Kay. We are extremely excited for our customers
(PRWEB) January 09, 2009
Los Angeles, CA (PRWEB) January 9, 2009 -- When jewelry designers began using tungsten carbide a few years ago in men's wedding rings, it made industry headlines for its crafting features: the metal is incredibly strong and resilient. One of the most popular is designed with a plated black finish. While the result is stunning, the black finish plating was subject to scratching which marred the ring's beauty. Now, that problem is a thing of the past as the Los Angeles, CA jewelry company Titanium Kay introduces the Tungsten Carbide "2nd Generation" collection. The process being used to extend the durability of the black finish is completely new: these are the first 100% scratch-proof black tungsten carbide rings.
The allure of tungsten carbide jewelry is its distinctive luster and strength, combining elegance with unmatched durability at a remarkable price. Men today are selecting tungsten carbide wedding rings for the finest combination of style and strength: the perfect complement to any wedding celebration. The Tungsten Carbide "2nd Generation" designs range from classic simplicity to bold modern and well-crafted with excellent attention to detail. Structural accents such as milgrains, bevels or grooves are offered on several of the designs to heighten the ring's visual appeal.
With this enhancement to the finishing process, the investment value of the jewelry is protected and the beautiful style of the ring will last a lifetime. This is especially significant for men's jewelry which must be able to withstand rigorous daily wear. Harder than gold or silver, tungsten carbide is ideally suited for men's jewelry and has quickly become the new fashion standard in wedding rings.
No matter what the wedding theme may be, there is a design that will blend in perfectly. Now men can choose a tungsten carbide wedding ring without fear of damage or the need for special care and the comfortable fit ensures that this is the only ring they will ever have to purchase.
"This is a milestone event for Titanium Kay. We are extremely excited for our customers," stated Francis Meyer, spokesperson for Titanium Kay. "The second generation of these revolutionary tungsten carbide wedding rings is not only superbly crafted to bring out the full beauty of the design, this new technology adds a lifetime guarantee to their dramatic black tungsten jewelry. It adds valuable protection to our customer's investment ensuring that their wedding ring will remain as beautiful as the first day they wore it."
The wedding ring is the central symbol of the marriage ceremony and should complement the personality of the wearer as well as their attire. This is a substantial purchase and will be worn more than any other jewelry. For enduring beauty, quality design and superior value in men's wedding rings, tungsten carbide is an outstanding choice on all three points. And with the development of the 100% scratch-proof finishing process, jewelry designed in this metal is even more attractive.
###