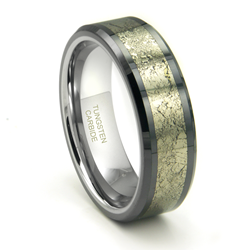 Each of the stones used to create this collection has been chosen for its rich hue and vibrant natural details to please our customer's preferences, express their deepest emotions and hold their beauty for a lifetime
Los Angeles, CA (PRWEB) January 30, 2013
Titanium Kay announced the addition of a new Tungsten Inlay Ring collection made from natural stones and Tungsten Carbide today. The realm of wedding ring design is now unlimited due to the range of stones and new metals that are available. The inventory of designs in the new tungsten wedding bands collection span the spectrum from Medieval, the Age of the Roman Empire and to the Space Station beyond. Titanium Kay has matched the beauty of these unique stones with the intricate inlay technique to create a true work of art that inspire elegant style in the wedding ring.
This new collection of luminous and powerful natural stones are indeed rare and unique making them perfect for individuals who want to truly express their own personality. The colors of these rare natural stones span a brilliant spectrum from the mysterious glow of Tiger's Eye, to the earthy hues of Marble and Riverstone to heavenly glimmer of meteorites. No two rings of the same stone look identical, such are the variations of each natural formation. The classic inlay style showcases the intricate design of each stone. The Titanium Kay Company brings a spectacular array of these extraordinary wedding bands to those who want to celebrate their unique self.
The new collection of Natural Stone Inlay Wedding Rings are the ideal way to bring extraordinary beauty to symbolize the union of marriage. Titanium Kay wedding rings are also ideal for the superior strength of the Tungsten Carbide metal from which they are made which enables them to be worn daily for years without fear of damage or loss of beauty.
The marketing director for Titanium Kay Francis Meyer stated: "When it comes to jewelry, rings are by far the most favored as personal statements and especially important when choosing a wedding ring. Each of the stones used to create this new Tungsten Inlay Ring collection has been chosen for its rich hue and vibrant natural details to please our customer's preferences, express their deepest emotions and hold their beauty for a lifetime."
For couples who want to display their affection and their style in an extraordinary manner, the tungsten inlay ring collection is an ideal choice at an extremely attractive price point of $99.99.