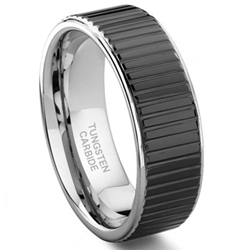 (PRWEB) November 12, 2008
Los Angeles, CA Titanium Kay, one of the most trusted online jewelers based in Los Angeles, California is pleased to announce the introduction of their Premier Coin Edge Tungsten Wedding Band Ring.
Tungsten carbide and titanium are two of the most durable metals for the crafting fine jewelry. With a well-earned reputation for traditional and innovative styles from the most respected designers, in 1994 Titanium Kay became one of the first to specialize in producing jewelry made from aircraft grade titanium.
Their latest creation, the exclusive tungsten carbide coin edge wedding band ring for men is manufactured in a gunmetal color, polished to a high finish. The sophisticated presentation of the ring carries the distinctive "reeding" or grooved notch design originally produced on the edge of coins during the minting process to deter counterfeiting.
This coin edge motif was first made popular as a part of jewelry design in modern times by Tiffany & Company. Yet this motif is not new: it has been discovered on archaeological artifacts in Greece from the 5th Century BC where it was used to decorate the traditional "lekythos" ceramics used for storing olive oil. Today this design is used to give character to a variety of jewelry items including watches, bracelets, pendants and earrings.
Pairing the incredible strength of tungsten carbide with the elegant coin edge motif produces a stunning and unique men's wedding band ring. With a hardness rating of 8.5 to 9.5 on the Mohs scale, this metal has been used industrially for years for its wear-resistance, making it an ideal medium for mens jewelry.
In addition to traditional and modern wedding band ring styles, there are futuristic jewelry designs created from black tungsten carbide, stainless steel, carbon fiber and black zirconium. Tungsten carbide rings are impervious to damage from normal daily wear, easily maintained and provide a unique fashion statement for men who want durability without sacrificing style.
The Premier Coin Edge Tungsten Carbide Wedding Band Ring can be personalized with custom laser engraving to commemorate your special day. This wedding ring design is available online exclusively at http://www.titaniumkay.com.
###