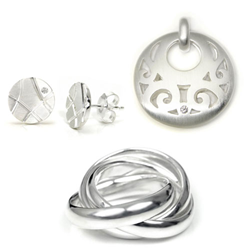 The philosophy that sets the standard for the designs of bastian inverun reflects the goal of Titanium Kay:
to provide superior quality jewelry to buyers without exorbitant prices
Los Angeles, CA (PRWEB) July 09, 2011
In the year 1974, Bastian was founded in the city of Bremen, Germany and the company soon earned a reputation for jewelry designed with classic quality in a modern style. In 1998, halfway around the world in Los Angeles, California another jewelry company, Titanium Kay launched its online store and began offering collections of artistically designed titanium jewelry. Today Francis Meyer, marketing director for Titanium Kay announced the addition of the inverun sterling silver designs from bastian to their online collection.
"We are always seeking fresh designs with a high level of quality for our customers, and this is exactly what we found in the creations of bastian," stated Francis. "The philosophy that sets the standard for the designs of the inverun collection reflects the goal of Titanium Kay: to provide superior quality jewelry to buyers without exorbitant prices."
The managing partners of bastian, Axel Niesing and Axel Fritsch are pleased at the attention the designs crafted by their German jewelry artisans has received from the public and the media. Using only the finest natural materials exclusively, the jewelry is noted for its high level of craftsmanship and its uniquely modern approach to design. This reflects the meaning of the name given to the collection, the word "inverun" is formed from three Latin words; "ingenuus, verum, unicus" meaning "noble, genuine and unique."
In addition to many press articles, bastian's attention to detail is appreciated by Germany's jewelry industry as well, again earning the company the award of "Jewelery Brand of the Year" in 2009.
The addition of the bastian inverun collection to Titanium Kay's growing inventory of fine jewelry is a natural match for two companies who share the same philosophy and concern for the satisfaction of their customers. For more than a decade Titanium Kay has received accolades as an online industry leader for providing exceptional jewelry including titanium rings, tungsten carbide rings and cobalt chrome wedding bands.
The debut of the stunning inverun collection from bastian brings a new option in elegant jewelry to the customers of Titanium Kay, and provides an even larger selection of beautiful items that are suitable for weddings, birthdays anniversaries and all of life's special events that demand an exceptional gift.
###