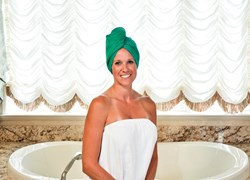 The mission of the fashion show is to raise funds to provide education, support, and activities to help families cope during their hospitalization at Children's Hospital
Butler, PA (PRWEB) November 08, 2013
For the third consecutive year, Turbie Twist will be giving away free Turbie Twists at the fundraising event on Saturday, November 16, 2013 at the Omni William Penn in downtown Pittsburgh. Turbie Twists will also be available for purchase at the event, and 20% of the proceeds from each purchase will go towards the charity. Numerous other vendors will also be in attendance to raise money for this great cause.
The mission of the fashion show is "to raise funds to provide education, support, and activities to help families cope during their hospitalization at Children's Hospital," stated Cherly Mazeski of Family Life In Style with Children's. Guests can enjoy a head start on holiday gift buying with a fun afternoon of fashion and shopping to benefit a worthy charity.
Turbie Twist is committed to giving back to the community, and thinks raising awareness and funds for Children's Hospital of Pittsburgh Foundations is a great way to make a positive difference.
The fashion show includes the latest fashion trends from numerous Pittsburgh designers including, wife of Steelers' head coach, Kiya Tomlin. The In Style with Children's event also holds boutique shopping, silent auction items, and raffle prizes. The event is expected to exceed last year's attendance.
It's a fun, fashion-filled event that supports a great cause. Turbie Twist is excited to attend and support the mission.
ABOUT TURBIE TWIST, LP
Turbie Twist, LP is the sole manufacturer and distributor of the Turbie Twist® hair towel. The Turbie Twist® is smaller and easier to use than an ordinary bath towel that simply falls off.
The Turbie Twist® is a revolutionary product that allows one to be the ultimate multi-tasker while drying their hair. It's unique twist and loop system makes it the hair towel that stays in place. Featuring a tapered design the Turbie Twist® allows for a perfect fit on all head sizes. It allows users to get dressed, apply make-up, and check email - all while drying their hair.