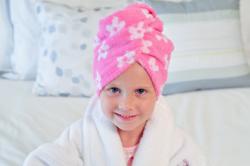 The Turbie Twist makes the perfect gift idea for everyone on your Easter list.
Pittsburgh, PA (PRWEB) April 06, 2012
This time of year, everyone is looking for an extra something special to include in their "Little Bunnies" Easter Basket. In addition to traditional candy and eggs – why not include something fun and practical that will last years after the marshmallow treats are gone.
The Turbie Twist® makes the perfect gift idea for everyone this Easter. Because of the unique twist and loop design it is great for kids and adults! They're perfect for last minute teachers and babysitter gifts too. The Turbie Twist® is available in a variety of fun fashion colors and designs like polka dots, flowers and hearts so you can find one to fit everyone's taste and personality. In addition to being fun and practical, the Turbie Twist® is also an affordable gift to include in a basket ($4.79 at Walmart). Give the gift of convenience this Easter and stop struggling with a bulky bath towel after bathing!
To find a Turbie Twist - Hop over to Walmart, CVS or Bed Bath and Beyond.
To learn more about Turbie Twist and its new products, visit http://www.TurbieTwist.com and find us on Facebook, Twitter, and Youtube.
About Turbie Twist, LP
Turbie Twist, LP is the sole manufacturer and distributor of the Turbie Twist® hair towel. The Turbie Twist® is smaller and easier to use than an ordinary bath towel that simply falls off.
The Turbie Twist® is a revolutionary product that allows one to be the ultimate multi-tasker while drying their hair. It's unique twist and loop system makes it the hair towel that stays in place. Featuring a tapered design the Turbie Twist® allows for a perfect fit on all head sizes. It allows users to get dressed, apply make-up, and check email - all while drying their hair.