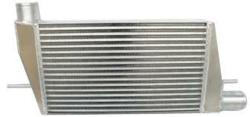 These additions are expected to open up better opportunities for buyers to find preowned parts for a discounted sale price.
Cincinnati, OH (PRWEB) May 24, 2013
The sale of performance vehicles is one method used by automakers to reach vehicle buyers who request more horsepower. Many import vehicles are created in the performance lineup and locating essential parts for these vehicles can produce challenges in some parts of the country. The AutoProsUSA.com company now sells its used auto parts nationally and has added turbo intercooler inventory for its performance vehicles lineup. These additions are expected to open up better opportunities for buyers to find pre-owned parts for a discounted sale price. The current inventory and prices offered online can be located at http://autoprosusa.com/used-intercoolers-for-sale.
The improvements to combustion engines has made it possible for turbocharged editions to be part of engine technologies. The increased amount of airflow that these systems provide has helped boost the amount of available horsepower. The intercooler serves an important role in the performance auto parts industry to help provide a constant source of cleaner air to engines.
Because these parts are essential for power, some automakers are now using these as standard packages in vehicle production. The intercoolers that are now discounted and added for online sale represent a portion of the parts that are now sold by the Auto Pros company online.
Parts warranties help to provide assurance for buyers when installations are completed. The issuance of a warranty can vary between automotive sellers due to the age of the parts that are sold. The condition of each part typically goes through evaluations before being graded on a quality scale. These are used to determine the amount of warranty protection provided.
The AutoProsUSA.com company has made improvements to the warranties that are offered from its parts website. The protections that are now supplied ensure that all parts receive a respectable amount of parts protection. These efforts are offered to buyers without an increase in parts prices.
The inventory increases and parts protection now provided at this company are in addition to the distribution network expansion undertaken recently. New agreements have been reached with suppliers in more parts of the U.S. to help supply parts orders to the public. The cities of Las Vegas, Dallas, Chicago and Charlotte have been included in the company network of suppliers.
The news release at http://www.hawaiinewsnow.com/story/22253695/junk-yards-in-dallas-tx-now-shipping-orders-through-autoprosusacom is one public announcement made by this company in recent weeks to announce the company expansion. More key cities in the U.S. are expected to be included before the close of this year.
The Auto Pros company has developed new ways that customers and suppliers can use to make immediate contact. A new mailing address is now part of the contact information that is now available. Requests for information can be forwarded using the following information:
Auto Pros USA
1270 Crabb River Rd.
‪Richmond, TX 77469
(888) 230-1731
(713) 560-7017
About AutoProsUSA.com
The AutoProsUSA.com company has expanded its company since its initial launch and now works closely with suppliers in most parts of the U.S. These suppliers help to build the company database of parts that are now available for sale. The low prices that are found through the company website are helping more buyers to locate better choices for auto parts online. The AutoProsUSA.com company staff assists all buyers using the toll-free telephone number and online quotation system. These professionals are able to research parts requests, quote prices and answer any questions about the parts that are up for sale. These combined efforts and faster shipment methods are helping to build the online reputation of this company.