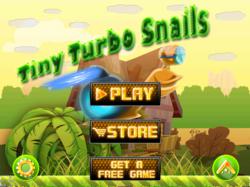 Tiny Turbo Snails is basically a multiplayer game that features turbo boosted snails for racing.
Hollywood, FL (PRWEB) June 28, 2013
A new iOS game called Tiny Turbo Snails was recently released by Dream Bot Studios. And as the company asserted, it is surely one exciting game application that everybody would enjoy.
Tiny Turbo Snails is basically a multiplayer game that features turbo boosted snails for racing. It has two versions – the iPhone version and iPad version.
Dream Bot Studios stated that the gamers' goal in the said game is to pass its 35 levels of rough and slippery terrains. Players are given lots of unique racing snail shells and power-ups to collect along the way to boost the snails' performance, it explained.
Designed with high-definition graphics & sounds, the game is enhanced with turbo cool tunes for hard core gamers and relaxing sound effects for casual players, the game development company detailed. And with the use of real physics, it added that the app guarantees a smooth game play.
Being a multiplayer game, Dream Bot Studios related that Tiny Turbo Snails also allows real-time racing with other gamers. It elaborated that anyone who plays it could compete with their online friends on Game Center and Facebook.
But Tiny Turbo Snails is actually just one of Dream Bot Studios iOS games. Among its other top apps are War Z and Turbo Trains.
Dream Bot Studios is particularly a self-funded game development company. It is based in Hollywood, Florida and according to its CEO, Markus Skupeika, its goal is to enhance the people's experience while in the virtual world.
When asked to describe the company, Skupeika had this to say:
"Dream Bot Studios has now seen more success with each game submitted to the App Store. We are a self funded company and our mission is clear, to enhance our players experience with fun social games. We are fortunate enough to have enough funding to build iphone and ipad games without too many quirks.
We look forward to bring the mobile business to South Florida and are on par with being a top game studio based in Hollywood, Florida."
To see all of Dream Bot Studios' iOS games, the company encouraged the public to visit its website at DreamBotStudios.com.