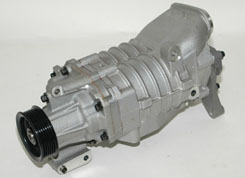 For many truck drivers, upgrading an engine to receive more power can be an expensive choice.
Houston, Texas (PRWEB) December 14, 2012
Vehicle owners that want to increase the power for a vehicle without making an engine upgrade will now have a new resource online to help make this effort a reality. The http://www.turbosandsuperchargers.com website has launched to provide these used and rebuilt assemblies online. Average vehicle owners and mechanics that perform installations for third parties can now use this resource to find affordable pricing for these units.
The performance vehicle industry is often associated with vehicles that require more horsepower. Project car builders and those that construct hot rods have used alternative technologies for decades to find the right mixture of speed and performance.
For many truck drivers, upgrading an engine to receive more power can be an expensive choice. The TurbosandSuperchargers.com company has launched online to provide solutions for truck owners.
These forced air intake systems do not require modifications to fit inside of most cars and trucks that require more power. This technology is often used as an alternative to a larger engine replacement. The new turbo and supercharger units that are now sold online are provided as rebuilt to help provide a solution that is generally less expensive than buying a new unit.
The new online inventory that is available includes many types of truck and car forced air induction units. All of the in stock versions come complete with warranties and are tested using diagnostic tools to ensure that these work well with motors that can accept these attachments. The new inventory can be searched using this link http://www.turbosandsuperchargers.com/blog.
To go with the new website launch, a new toll free number has been added to help customers get the information that is needed before a purchase is made. Those that have questions before purchase can now call 1-877-630-3877 to get immediate assistance. This service is one of the new features now offered to customers.
About Turbos and Superchargers
The Turbos and Superchargers company have provided decades of offline sales to customers and to mechanics or installers for air intake modified units. The 2012 launch of the company website online is expected to help expand the territories that these units can be shipped in the U.S. and Canada. The Turbos and Superchargers company provides extended warranties for all of the units that are sold online and offline to ensure customers of flawless operation. By selling for prices under the retail list price, this company has been able to attract attention from the automotive industry as a trusted resource for performance car and truck parts.