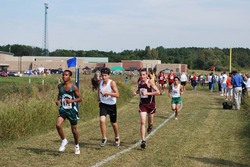 TSG was really involved from the beginning as far as design, grading and seeding the course.
Dunlap, IL (Vocus) March 5, 2010
Turf Solutions Group has expanded its areas of expertise by completing its first cross-country course for a growing school district near Peoria, Ill. The design and quality of the course will allow the Dunlap School District to host high level state qualifying meets and invitational events.
"I was really worried because we had horrible amounts of rain (during the 2009) spring and summer," Duane Peterson, athletics director for Dunlap High School, said of conditions he feared would delay the project's completion (for the fall cross country season). "But (TSG) got it done when they said they would. It was a huge relief.
"TSG was really involved from the beginning as far as design, grading and seeding the course." When a new course was needed for the fastest-growing school district in central Illinois, administrators wanted something that would serve multiple facilities. TSG developed a dedicated route with 2 and 3-mile layouts that will give those schools the ability to host regional and sectional events.
Formerly, Dunlap runners traversed a course that crossed some of the school's other athletic facilities. Interruptions were common and safety concerns became an issue. The new course -- which is entirely grass and flows through a valley and timber -- is no longer adjacent to other athletic facilities and is designed in a manner that offers improved viewing points for spectators.
"We won't be running around a baseball game or through the tennis courts anymore," Dunlap athletics director Duane Peterson said. "We like it because it incorporates our high school campus with Dunlap Valley and Dunlap Middle School." Peterson said the new course already has allowed Dunlap to host a sectional meet this fall for the Illinois Elementary School Association and he expects to host future events on the high school level.
Additionally, and maybe most importantly for a public school district, the project was completed within the parameters of its budget.
"They did an excellent job," Lisa Parker, administrator for the Dunlap school district, said of working with TSG. "They were very professional, did it on time and within our budget. We couldn't be happier."
About Turf Solutions Group LLC
With more than 20 years experience in recreational land design and development, Turf Solutions Group (TSG) provides the architects, planners, project managers and construction resources to ensure projects get completed on time and on budget. TSG provides construction design and management in golf and athletic facilities throughout North America and parts of Europe, Asia and Central America. For more information, visit http://www.turfsolutionsgroup.com or contact Holly Emlen at 877.586.1363.
# # #