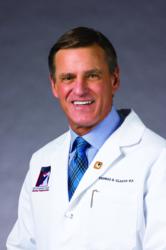 These results of this study will help physicians establish the severity of a turf toe injury and will allow for a more accurate diagnosis and subsequently better treatments.
Vail, Colorado (PRWEB) August 03, 2012
Dr. Thomas O. Clanton, orthopaedic surgeon and Director of Foot and Ankle Sports Medicine for the Steadman Clinic in Vail, CO, was recently awarded a research grant by the Orthopaedic Education Foundation of the American Orthopaedic Foot and Ankle Society. This research initiative - to be conducted at the Steadman Philippon Research Institute - will provide a detailed evaluation of turf toe injuries using a method of analysis that utilizes stress radiographs.
Turf toe is the layman term historically given to describe a sprain to the ligaments and soft tissue that surround the big toe joint (called the 1st metatarsophalangeal joint or MTP joint). It is most commonly associated with sports such as football, soccer, and lacrosse, and occurs when the big toe is hyperextended or moved to a position that is beyond its normal range of motion.
(Watch Dr. Clanton describe how a turf toe injury occurs in this video on turf toe injuries)
This capsuloligamentous injury often affects the sesamoid bones, which are the two small bones that lie within the tendons crossing the underside of the big toe, and can occur with the disruption of the ligaments and capsular tissues that hold the joint in place leading to an unstable joint and chronic pain. Although the typical mechanism of turf toe injuries involves the delivery of an axial load to a foot positioned in a fixed equinus (a tip toe position), variations in this injury pattern coupled with the complexity of this joint make the diagnosis of more severe injuries difficult.
While turf toe may seem like an inconsequential injury which would rarely keep an athlete from play, it is sometimes bad enough that it can keep high-level athletes, star gymnasts, and lead dancers, sitting on the bench for weeks at a time, and sometimes can end a career. In a study that took place in 1990 that surveyed 80 National Football League players, nearly 50% of them experienced a turf toe injury during their career.
Within the sports medicine world, there has been dispute on the best course of treatment to repair turf toe injuries. Thus, there is not a specific standardized approach. This study proposes a quantitative grading system based on dorsiflexion stress radiographs. This will result in a predictable and reproducible test for evaluating the extent of injury to the first MTP joint.
According to Dr. Clanton, "Turf toe injuries at the most extreme degree of injury produce an unstable joint that makes it impossible for an athlete to compete. This injury has become more common with artificial playing surfaces (such as turf) and the use of lightweight, flexible shoes. Failure to properly recognize and manage these more severe forms of turf toe have led to ending of careers for some athletes and even high profile lawsuits. Having a standardized test to distinguish the more severe injuries will help physicians determine which athletes need more aggressive treatment with rest, immobilization, and/or surgery, versus those who can be treated symptomatically and return to play more quickly."
The study was performed in the Department of BioMedical Engineering (BME) at the Steadman Philippon Research Institute in Vail, Colorado. Dr. Coen Wijdicks, Director of the Department of BME stated, "This is a study that directly translates between basic science and clinical practice, as we are testing clinical diagnosis in a controlled laboratory environment using radiographic imagery. These results will establish the severity of injury to the plantar plate and allow for more accurate diagnosis and subsequently better treatments."
These results were submitted for publication this month. For more information on the studies being evaluated at The Steadman Philippon Research Institute, please visit http://www.sprivail.org.
###
About The Steadman Philippon Research Institute
The Steadman Philippon Research Institute (SPRI) is dedicated to keeping people of all ages physically active through orthopaedic research and education in arthritis, healing, rehabilitation, and injury prevention. Founded in 1988 by orthopaedic surgeon Dr. Richard Steadman as the Steadman Sports Medicine Foundation, the 501(c)(3) charitable organization has influenced the practice of orthopedics throughout the world. Based in Vail, Colorado, it has become one of the most published organizations in sports medicine research and education.