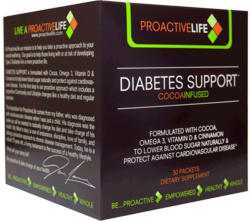 Turmeric is a unique spice with a wide array of potential health benefits including anti-inflammatory and possible type 2 diabetes prevention." by James Lowenstein
Rancho Palos Verdes, CA (PRWEB) January 09, 2012
Turmeric found in Diabetes Support Supplements has been long known for its role in reducing inflammation. There are 24 active National Institutes of Health studies looking at additional benefits of turmeric including the fields of cancer, arthritis, Alzheimer's and now type 2 diabetes.
A research team at Columbia University found Turmeric could play a significant role in preventing type 2 diabetes. A team of endocrinologists treated mice with turmeric and found less insulin sensitivity and a reduction in risk of developing type 2 diabetes.
Dr. Tortoriello, working with paediatric resident Stuart Weisberg, M.D., Ph.D., and Rudolph Leibel, M.D., fellow endocrinologist and the co-director of the Naomi Berrie Diabetes Center, discovered that turmeric-treated mice were less susceptible to developing Type 2 diabetes, based on their blood glucose levels, and glucose and insulin tolerance tests. They also discovered that turmeric-fed obese mice showed significantly reduced inflammation in fat tissue and liver compared to controls. They speculate that curcumin, the anti-inflammatory, anti-oxidant ingredient in turmeric, lessens insulin resistance and prevents Type 2 diabetes in these mouse models by dampening the inflammatory response provoked by obesity.
ProactiveLife (http://www.proactivelife.com) was founded in 2011 to help people living with chronic disease take control of their health. The approach incorporates community, lifestyle changes, and natural supplements which have been clinically proven to assist people with type 2 diabetes.
Diabetes Support is unique because it addresses both the cause and effect of type 2 diabetes by naturally lowering blood sugar levels and protecting against cardiovascular disease which is the number one cause of death among diabetics.
Diabetes Support contains 10 clinically proven ingredients to lower blood sugar naturally including cocoa, cinnamon, omega-3, vitamin D and others. Along with lifestyle changes including diet and exercise Diabetes Support is a new proactive approach to Type 2 Diabetes management.
By James Lowenstein
ProactiveLife
http://www.proactivelife.com
# # #