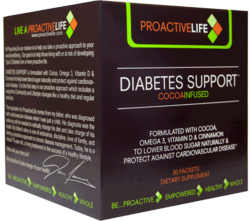 "Research from Penn State find turmeric does a heart good by lowering triglyceride and insulin levels."
Rancho Palos Verdes, CA (PRWEB) April 30, 2012
Diabetes Support Supplements contains pure turmeric and new research from Penn State finds the spice may do the heart good by lowering triglyceride and insulin levels. "Elevated triglycerides are a risk factor for heart disease," explains researcher Sheila West.
Her study concluded that incorporating turmeric in an otherwise high fat meal actually lowered triglycerides and insulin levels. Levels dropped by about one third for those using turmeric in the meal. "It was surprising," West told us. "I didn't expect such a large decrease."
"To me, the biggest advantage [found in the study] is the lowering of triglycerides and the insulin levels [which dropped about 20 percent]," explains cardiologist Ravi Dave of he University of California, Los Angeles.
A research team at Columbia University found Turmeric could play a significant role in preventing type 2 diabetes. A team of endocrinologists treated mice with turmeric and found less insulin sensitivity and a reduction in risk of developing type 2 diabetes.
"Administration of turmeric or curcumin to diabetic rats reduced the blood sugar, Hb and glycosylated hemoglobin levels significantly. Turmeric and curcumin supplementation also reduced the oxidative stress encountered by the diabetic rats." (Diabetes.co.uk)
In addition to the this study there are 24 active National Institutes of Health studies looking at additional benefits of turmeric including the fields of cancer, arthritis, Alzheimer's and now type 2 diabetes.
ProactiveLife was founded in 2011 to help people take control of their health. The approach incorporates community, lifestyle changes, and natural supplements which have been proven to assist people with blood sugar and energy regulation.
Diabetes Support contains ten ingredients which may lower blood sugar levels including turmeric, cocoa, cinnamon, omega-3, vitamin D and others. Along with lifestyle changes including diet and exercise Diabetes Support is a new proactive approach to overall health management.
ProactiveLife
http://www.proactivelife.com