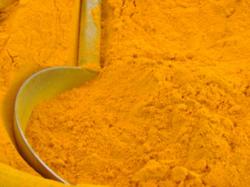 "To me, the biggest advantage is the lowering of triglycerides and the insulin levels," explains cardiologist Ravi Dave of UCLA.
Rancho Palos Verdes, CA (PRWEB) July 13, 2012
Turmeric (Curcuma longa) has been used for over 4000 years to treat a variety of health conditions. Diabetes Support Supplements contains pure turmeric and new research from Penn State and Chiang Mai University of Thailand finds the spice may do the heart good by lowering triglyceride and insulin levels and by providing cardiovascular protection post by-pass surgery.
The Penn State study looked at certain cardiac markers and how turmeric impacted those markers. "Elevated triglycerides are a risk factor for heart disease," explains researcher Sheila West. Her study concluded that incorporating turmeric in an otherwise high fat meal actually lowered triglycerides and insulin levels. Levels dropped by about one third for those using turmeric in the meal. "It was surprising," West told us. "I didn't expect such a large decrease."
"To me, the biggest advantage [found in the study] is the lowering of triglycerides and the insulin levels [which dropped about 20 percent]," explains cardiologist Ravi Dave of he University of California, Los Angeles.
Researchers from Chiang Mai looked at 121 patients (on average 61 years old) who underwent scheduled cardiac bypass surgery. Three days before surgery until five days post-op, one group took 4 grams per day of encapsulated curcuminoids. The other group took a placebo.
Among the curcuminoid group, only 13.1 percent had heart attacks during recovery after surgery, compared to 30 percent of the placebo group. Researchers concluded that patients in the curcuminoid group had a 65 percent lower chance of heart attack, according to Reuters.
What is it about curcuminoids that helps protect against heart attack? "The antioxidant and anti-inflammatory effects of curcuminoids may account for their cardioprotective effects shown in this study," the study authors write in their report.
"It's very, very encouraging," said Bharat Aggarwal, who studies the use of curcumins in cancer therapy at the MD Anderson Cancer Center in Houston, Texas.
Aggarwal, who wasn't involved in the new study, said research has suggested inflammation plays an important role in the development of a range of diseases, including heart disease -- and curcumins could have an effect on those pathways," as quoted from Reuters.
A research team at Columbia University found Turmeric could play a significant role in preventing type 2 diabetes. A team of endocrinologists treated mice with turmeric and found less insulin sensitivity and a reduction in risk of developing type 2 diabetes.
"Administration of turmeric or curcumin to diabetic rats reduced the blood sugar, Hb and glycosylated hemoglobin levels significantly. Turmeric and curcumin supplementation also reduced the oxidative stress encountered by the diabetic rats."
ProactiveLife (http://www.proactivelife.com) was founded in 2011 to help people take control of their health. The approach incorporates community, lifestyle changes, and natural supplements which have been proven to assist people with blood sugar and energy regulation.
Diabetes Support contains ten ingredients which may lower blood sugar levels including turmeric, cocoa, cinnamon, omega-3, vitamin D and others. Along with lifestyle changes including diet and exercise Diabetes Support is a new proactive approach to overall health management.
ProactiveLife
http://www.proactivelife.com
1. Potential role of curcumin phytosome (Meriva) in controlling the evolution of diabetic microangiopathy. A pilot study. Appendino G, Belcaro G, Cornelli U, Luzzi R, Togni S, Dugall M, Cesarone MR, Feragalli B, Ippolito E, Errichi BM, Pellegrini L, Ledda A, Ricci A, Bavera P, Hosoi M, Stuard S, Corsi M, Errichi S, Gizzi G. Panminerva Med. 2011 Sep;53(3 Suppl 1):43-9.
2. Turmeric (Curcuma longa L.) volatile oil inhibits key enzymes linked to type 2 diabetes. Lekshmi PC, Arimboor R, Indulekha PS, Nirmala Menon A. Int J Food Sci Nutr. 2012 Mar 5
3. Oral supplementation of turmeric attenuates proteinuria, transforming growth factor-β and interleukin-8 levels in patients with overt type 2 diabetic nephropathy: a randomized, double-blind and placebo-controlled study.Khajehdehi P, Pakfetrat M, Javidnia K, Azad F, Malekmakan L, Nasab MH, Dehghanzadeh G.
Scand J Urol Nephrol. 2011 Nov;45(5):365-70
4. The protective role of curcumin in cardiovascular diseases. Wongcharoen W, Phrommintikul A. Int J Cardiol. 2009 Apr 3;133(2):145-51.
5. Molecular mechanism of curcumin on the suppression of cholesterol accumulation in macrophage foam cells and atherosclerosis. Zhao JF, Ching LC, Huang YC, Chen CY, Chiang AN, Kou YR, Shyue SK, Lee TS. Mol Nutr Food Res. 2012 May;56(5):691-701.