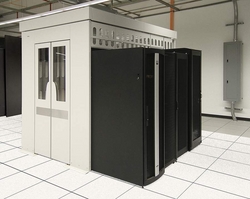 Every data center has unique issues of concern. At Wright Line, we don't advocate one containment solution over another. Rather, we work with data center professionals to audit current operations and then develop a comprehensive airflow management strategy that makes the most sense for that facility
Worcester, MA (PRWEB) June 22, 2010
Wright Line, leading developer of data center air flow solutions, announced that it will feature its array of solutions for aisle containment today at the Turner Logistics Tradeshow event in Grapevine Texas.
Wright Line's suite of aisle containment solutions, which are technology and topology agnostic, includes the company's patented Heat Containment System (HCS), as well as its end-of-row doors, aisle containment ceilings and rack hygiene protocols.
"Every data center has unique issues of concern. At Wright Line, we don't advocate one containment solution over another. Rather, we work with data center professionals to audit current operations and then develop a comprehensive airflow management strategy that makes the most sense for that facility," said Carl Cottuli, Wright Line's Vice President of Product Development and Services. "The solution may be heat containment at the rack level, cold aisle containment or hot aisle containment. It might also be a combination of more than one of these approaches -- depending on the layout of the data center. Whatever the need is, Wright Line has the expertise, the flexibility and the capacity to work with individual managers, not only to provide them with a solution, but also to assist them in the stages leading up to total containment for improved datacenter operations and reduced energy costs."
Used separately, the solutions can mitigate misdirected air flow and decrease energy costs. Used in combination, as a total containment solution, they can closely match supply with demand, maximize airflow dynamics, reduce energy costs and optimize data center operations.
Wright Line's Heat Containment System
Wright Line's HCS offers a simple, scalable and low cost solution that contains and directs the heat exhaust from IT equipment through a chimney attached to the top rear of the data center enclosure. The hot air is ducted to existing CRAC units through a plenum ceiling or high air return. The system can cool up to 25kW or more per enclosure without the expense of adding supplemental CRAC units to the data center. For more information about Wright Line's HCS click here.
Wright Line's End-of-Row Doors
As much as 60% of the cool air supplied to traditional data centers is wasted. This air bypasses the
intended IT equipment and returns to the hot air intake of the air conditioning system. Wright Line's End-of- Row-Doors can increase the efficiency of cold aisles by blocking obvious cold-air escape routes and preventing the entry of re-circulating hot air.
The End-of- Row-Doors method is a rack-neutral solution. It can decrease wasted air that escapes around the end of the aisle. End-of- Row-Doors can be used in combination with aisle containment ceilings to achieve total aisle containment. For more information about Wright Line's End of Row Doors, click here.
Wright Line's Aisle Containment Ceilings
In conjunction with End-of- Row-Doors, the Aisle Containment Ceilingis typically used to complete a total aisle containment solution. Modularly crafted in V-0-rated Lexan® and cut to size, the ceiling panels can be mounted to the top of Paramount, Vantage S2 and other third-party enclosures.
The Aisle Containment Ceilingfeatures tool-less brackets for easy panel removal, cleaning, maintenance and cable management access, In addition, its panels and brackets are adjustable to manage inconsistencies in aisle formation. For more about Wright Line's Aisle Containment Ceilings, visit the Wright Line web site here.
Wright Line's Rack Hygiene Methodology
Rack Hygiene, Wright Line's breakthrough classification for data center energy management, describes the care in which the data center rack envelope is designed, controlled and maintained. The process encompasses the identification, analysis and repair of hot air leakage areas/infusion paths and cold air bypass routes within and around individual data center racks.
Ineffective rack airflow management at the rack and row level is a key contributor to aisle and room overheating. Rack Hygiene can solve the problem by approaching the rack as part of the airflow management system and setting benchmarked standards for leakage. To learn more about Rack Hygiene, read Wright Line's white paper.
For a conversation about any of Wright Line's customized aisle containment solutions for your data center, call 800.225.7584 or email pr(at)wrightline(dot)com.
About Wright Line
Wright Line is a leading, global outfitter for data centers and additional technology-driven environments. Incorporating expertise in airflow management solutions, modular design, ergonomics and green standards to workplace solutions, Wright Line helps customers conserve capital, meet evolving business goals, address sustainable energy needs and adhere to technology requirements. The company is headquartered in Worcester, MA, and is a member of AFCOM, BICSI, The Green Grid, The 9-1-1 Industry Alliance and the US Green Building Council. For more information, visit http://www.wrightline.com or contact Wright Line at info(at)wrightline(dot)com or 800.225.7348.
Wright Line Contact
Christopher J. Devaney
Director of Marketing Communications
Wright Line LLC
508.926.6014
christopher(dot)devaney(at)wrightline(dot)com
Editorial Contact
Barbara Rudolph
Rudolph Communications
781.229.1811
bjr(at)rudolphcommunications(dot)com
# # #