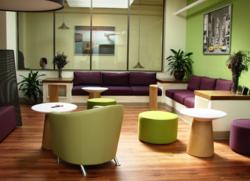 "Everyone deserves a great place to work," said Turnstone General Manager Kevin Kuske.
San Francisco, CA (PRWEB) May 11, 2011
Turnstone, a Steelcase brand, launched a pilot program to bring its affordable new office furniture line and services to the San Francisco startup community.
As designing an attractive, smart office space can be a daunting challenge for busy small companies, Turnstone launched a website where customers can buy furniture online, get help with office design and find San Francisco coworking spaces that feature Turnstone furniture.
Turnstone's new office furniture line is designed for a modern workspace that values collaboration, openness and mobility. Its simple, adaptable, technology-friendly design and bright color palette make for a cool office look that can help small companies attract employees and promote innovation.
"We value the creativity in small businesses and try to build products that reflect who they are because everyone deserves a great place to work," said Turnstone General Manager Kevin Kuske.
Those who want to see and try out the furniture can schedule tours at several San Francisco's coworking and incubator spaces, including Sandbox Suites, pariSoma and RocketSpace, where Turnstone furniture is being put to use by other entrepreneurs.
"As a small business, we've struggled with finding office furniture that is both stylish and affordable until we encountered Turnstone," said Sandbox Suites CEO Roman Gelfer. "This partnership lets us help other companies searching for a new office look."
Turnstone also offers small companies support from its space planning and workspace design experts.
"We want to be a true partner to small businesses, where we help them achieve what they want to be as a company," said Danielle Galmore, Turnstone's senior marketing and business evolution manager.
Turnstone studied the needs and behaviors of small business with the help of design consulting firm IDEO. The office furniture understands the value of customized experience and ease of shopping online to San Francisco's small businesses.
About Turnstone
Turnstone is a Steelcase Inc. brand that offers an affordable office furniture line, design services and expert knowledge to help small businesses create smart places to work. Turnstone believes that space matters to companies of all sizes that want to inspire their teams to innovate and make a difference. Turnstone makes an affordable, sustainable, high-quality office furniture line that comes with office design support services from its team of experts and a 5-year bumper to bumper warranty. Turnstone office furniture line includes unique office desks, chairs, couches, ottomans, lamps, screens and storage units designed in multiple colors and materials. Turnstone offers free shipping on office furniture via Fedex. Turnstone is headquartered in Grand Rapids, Mich.