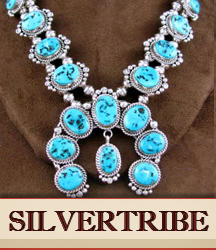 Turquoise jewelry styles are always expanding at SilverTribe to meet customer demand.
Scottsdale, AZ (PRWEB) August 03, 2012
Southwest jewelry is a scorching summer trend and SilverTribe is keeping up with demand by constantly adding new products to its collection.
Turquoise jewelry is the most popular item in SilverTribe's collection and the retailer is not only offering customers the best selection on the web, but the lowest prices as well.
"Nothing says Southwest fashion like a beautiful turquoise stone," said SilverTribe spokesperson Chris Anderson. "There's something soothing and cooling about the vibrant blue shades that just helps us feel a little calmer during those hot summer months."
Styles reflect the beauty and craftsmanship made famous by tribes such as the Navajo, Zuni and Hopi.
"Customers are really taking advantage of our growing selection of turquoise pendants," Anderson said. "We have styles inspired by the Zuni tribe, which feature beautifully inlaid stones that create an amazing mosaic of colors and images."
The Navajo tribe is also well known for their style of turquoise jewelry making. Those looking for a large stone centerpiece set against expertly shaped sterling silver could consider a pendant from SilverTribe's collection of Navajo jewelry.
There are many styles of Native American jewelry available at SilverTribe to match any style or budget. From classic and timeless styles to modern, cutting edge designs, there are plenty of options for customers to choose from
"We can say with confidence that our selection is the best and most diverse on the web," Anderson said. "It has always been our goal to connect shoppers with a piece that speaks to them and our turquoise jewelry is always a hit."
SilverTribe is also offering exclusive deals on turquoise jewelry for anyone who signs up to be a Preferred Member by visiting the site and entering their email address.
For more information about SilverTribe, or to browse a growing selection of turquoise jewelry, visit http://www.silvertribe.com/Turquoise-Jewelry