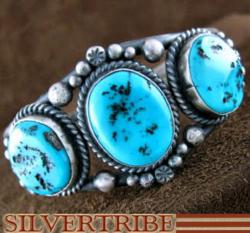 Scottsdale, AZ (PRWEB) April 30, 2012
SilverTribe, the online leader in Southwest jewelry, is offering the best prices on its entire selection of turquoise jewelry in honor of Mother's Day. The company offers a wide selection of Native American jewelry to match any style or any budget.
"Mother's Day is the perfect time to get the most important women in your life something truly spectacular," said SilverTribe's spokesperson. "If you've been sending flowers or making dinner reservations, this is the year to do something different and creative."
SilverTribe's collection of turquoise jewelry is made with the highest quality materials by some of the most revered artists in the industry today. The selection includes turquoise sets with necklaces and earrings that are sure to stun. The loved one in your life will show up to that Mother's Day dinner with her head held high.
The stunning SilverTribe turquoise collection also includes bracelets, pendants and pins, to name just a few. The company's Native American jewelry includes the most popular styles around made by Navajo, Hopi, Pueblo and Zuni tribes.
"Mother's Day is that one time during the year when we really get to show our loved ones how much they mean to us and what kind of impact they've had on our lives," SilverTribe's spokesperson said. "It's not the time to do something predictable. Your mother won't soon forget the day she received a beautiful piece of jewelry."
The company is also offering a 15% off coupon for customers who join the email list. Subscribers not only get great discounts, but will continue to be updated on the latest items and sales offered at SilverTribe.
With Mother's Day just around the corner, SilverTribe is offering its customers great deals on a huge selection of turquoise jewelry from some of the most talented artists in the Southwest.
To browse a huge selection of Native American jewelry or sign up for the email list visit http://www.silvertribe.com.