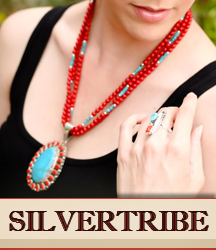 Turquoise jewelry is one of the hottest summer fashion trends this year and SilverTribe has the best selection on the web.
Scottsdale, AZ (PRWEB) July 12, 2012
Native American jewelry is one of the hottest summer trends this year, with turquoise jewelry in particular standing out as a top sizzling fashion choice.
With a variety of stunning styles in stock, SilverTribe is celebrating the beauty and craftsmanship by offering steep discounts on a wide array of items made using the finest silver and turquoise stones.
"We're experiencing a huge demand for turquoise jewelry this summer," said SilverTribe Spokesman Chris Anderson. "We're constantly expanding our selection to make sure our customers always have access to the most popular styles at the best prices available."
SilverTribe works with the best artists in the industry to bring the largest selection of turquoise jewelry to customers at prices that can't be found anywhere else. It's all inspired by the craftsmanship and artistry of the Southwestern tribes.
The distinctive collection of Navajo turquoise jewelry features large turquoise stones set against the backdrop of expertly crafted sterling silver. It's a great choice for jewelry collectors who choose the colors and complexities of turquoise.
A Zuni turquoise pendant is made using the inlay technique and features finely carved pieces of stone placed carefully in silver to create an intricate mosaic of dazzling shapes and colors.
"Every tribe has made its own lasting impact on the art of jewelry making," Anderson said. "Browse our collection to experience the diversity in styles and techniques inspired by the Navajo, Hopi and Zuni tribes. We have something for every style and budget."
SilverTribe has been a leader in American Indian Jewelry for more than a decade. The company offers a massive selection of styles at discounted prices with free shipping to all addresses in the United States.
To learn more about SilverTribe or to gain access to the most popular styles of Native American jewelry, log onto http://www.silvertribe.com/Turquoise-Jewelry.