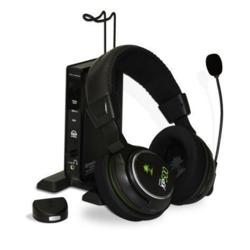 South Hackensack, NJ (PRWEB) November 22, 2011
Headphones.com is proud to announce the availability of Turtle Beach's most technologically advanced gaming headset, the Turtle Beach XP500 for the holidays. The XP500 boasts Bluetooth capabilities for completely wireless gaming on the Xbox 360 console. Until now, Xbox gamers have been dealing with tangled wires that reach from the headset to the controller. The engineers at Turtle Beach solved this issue by creating a Bluetooth adapter that syncs with the headset to allow gamers seamless voice integration for game play over Xbox Live.
The availability of the Turtle Beach XP500 coincides almost directly with the release of Call of Duty: Modern Warfare 3 and Battlefield 3, the latest editions of arguably two of the most popular video game series of all time. The superior sound quality of the XP500 is sure to bring out the intricate audio details of these popular games. Gamers are able to customize sound profiles which essentially allows them to customize how they hear different aspects of the game. This gives the user the ability to hear footsteps at much greater distances, giving them the immediate advantage of knowing enemy whereabouts in these games.
Other features of the Turtle Beach XP500 include Dolby 7.1 Surround Sound, Voice Morphing, mobile phone pairing, and the ability to work with both Xbox360 and PlayStation 3. This amazing headphone was made for gamers, by gamers, and it's obvious.
Headphones.com is part of the AlltecStores network. The AlltecStores network consists of several specialty e-tail websites focusing on audio-visual and technology products. It's main website, AlltecStores.com is parent to several others e-commerce sites, including Headphones.com, ProjectorScreenStore.com, AllCartStore.com, PodiumAndLecternStore.com, AllWhiteboards.com, ProjectorBulbsandLamps.com, NationalAVSupply.com and more. Manufacturers interested in having their products on Headphones.com should contact pr(at)headphones(dot)com. For more information visit http://www.headphones.com
###