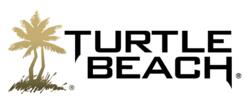 NPD data for September 2011 reports that Turtle Beach is the number one Headsets/Headphones Company and the number one overall for third party console video gaming accessories based on dollar volume.
Elmsford, NY (PRWEB) November 01, 2011
Turtle Beach, pioneers of the game audio category, announced today the appointment of entertainment and game industry veteran Bob Picunko as Chief Marketing Officer. The appointment comes amidst a banner year for Turtle Beach; NPD data for September 2011 reports that Turtle Beach is the number one Headsets/Headphones Company and the number one overall for third party console video gaming accessories based on dollar volume.
Driving Turtle Beach's momentum are such product introductions as the Ear Force X11, the best-selling stereo headset for the Xbox 360 of all time, and the recently released follow-up Ear Force X12 amplified stereo headset. In addition, the introduction of the Ear Force PX5 has reinvented gaming headsets by introducing patent-pending audio "presets" which allow developers and players to customize audio settings that enhance the game experience and offer a competitive edge. Turtle Beach is launching a line of limited edition Call of Duty: Modern Warfare 3 headsets and the Ear Force XP500, the first Xbox 360 headset to feature completely wireless chat capabilities.
Bob joins a strong executive management team as Turtle Beach seeks to continue redefine the category and build on the strength of its brand. He has held prior positions with MTV Networks, The Walt Disney Company, Interplay Entertainment, Acclaim Entertainment and DDB Worldwide Advertising. His strong background in marketing, product development, business development, licensing as well as advertising and sports marketing will be a valuable asset in his new role at Turtle Beach.
"Our mission is always to recruit the best talent for Turtle Beach," said Ron Doornink, Executive Chairman of Turtle Beach. "Bob's experience in developing and marketing major consumer franchises, as well as his expertise in licensing and building industry relationships will be a valuable addition to our leadership team."
"Bob is a dynamic addition to Turtle Beach," said Carmine Bonanno, Chief Executive Officer of Turtle Beach. "He has a track record of success and innovation in the industry, strong relationships with key partners and a keen understanding of both our market and consumers.""
"Audio is a really critical part of the video game experience," said Bob Picunko. "Through my work on successful titles like Kingdom Hearts, Rock Band, and Dance Central, I understand how much effort the developer puts into game audio. It is very exciting to be a part of a company where the mission is to assure that players experience games the way the creators intended."
Bob was most recently with MTV Networks, where he worked as Senior Vice President of Publishing. During his tenure at MTV, Bob launched the Rock Band franchise including The Beatles Rock Band, and the Rock Band digital music publishing platform, with global retail sales of over 20 million units and 100 million songs to date. In addition, Bob launched the top selling Kinect title, Dance Central.
At Disney, Bob served in Marketing and Business Development and Production roles within Walt Disney Consumer Products. In these roles, Bob worked on such franchises as Disney/Pixar's Finding Nemo, Monsters Inc., The Incredibles, Pirates of the Caribbean, Kingdom Hearts, Epic Mickey, Tim Burton's The Nightmare Before Christmas and the re-launch of the Tron franchise.
About Turtle Beach
Turtle Beach (http://www.turtlebeach.com) designs and markets premium audio peripherals for personal computer and video game platforms, including its acclaimed line of Ear Force gaming headphones and headsets crafted for Xbox 360 and PS3 game consoles and PC games. Turtle Beach's Ear Force X41 wireless headset is Official XBOX Magazine's "2009 Peripheral of the Year." Turtle Beach, headquartered in Elmsford, New York, is a brand of Voyetra Turtle Beach, Inc., which has been at the forefront of music and audio technology for more than three decades and is recognized as a pioneer of today's PC audio industry.
Turtle Beach and Ear Force are registered trademarks of Voyetra Turtle Beach, Inc. XBOX 360 is a registered trademark of Microsoft, Corp. All other trademarks are property of their respective holders and are hereby acknowledged.
Contact:
Christian Averill
High Road Communications
christian(dot)averill(at)highroad(dot)com
(415) 318-4063
# # #