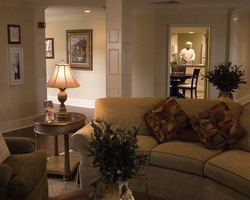 No detail was spared in meeting family needs in an environment that does not look or feel like a medical facility
OCALA, Fla. (PRWEB) October 30, 2007
The 24-bed Tuscany House is located one mile north of The Villages in Summerfield, FL, and was extensively re-designed by Johnson, Peoples Architects of Ocala. The panel of judges was appointed by The Center for Health Design, and based the award on excellence in:
-- innovation and creativity
-- ease of functionality for staff
-- enhancement of emotional well-being and physical comfort for patients/families
-- efficiency and facilitation of technology
The Tuscany House meets and exceeds all these requirements, and features an innovative design with four hubs that create intimate areas for visitors, such as family gathering rooms and serenity gardens.
"No detail was spared in meeting family needs in an environment that does not look or feel like a medical facility," says Hospice of Marion County President/CEO Alice J. Privett. "The goal was to remodel the existing structure and produce maximum efficiency for staff and comfort for families."
Walls were removed and eight units closed to create spacious, non-clinical appearing nursing stations that serve 10 suites and 14 private rooms. Each wing is monitored by a nursing to patient ratio of 1 to 4, so more time is spent at the bedside. Although it is equipped with a high level of care, no apparatus is visible. Even the hospital beds are disguised by custom-designed cherry wood frames.
The authentic Tuscan theme includes the furnishings and architecture, as well as the lighting, detailing and fountains. Families feel as if they've entered the coziness of a bed 'n breakfast, rather than a sterile medical facility. Amenities include: lighted art therapy ceiling murals, a Sirius sound system, Skype live videoconferencing, plasma TVs, kitchenettes, hydrotherapy, wireless call systems and a full back-up generator with a 7-day food/water supply.
Hospice of Marion County has four hospice houses with a total of 64 beds, the most of any hospice its size in the nation. A video tour of the Tuscany House is available online; ask for a free DVD by calling 352.854.5230 or a personal guided tour by appointment, 352.307.3417.