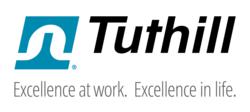 I hope this show will inspire other companies to breathe more authenticity into their places of work.
Burr Ridge, Illinois (PRWEB) December 06, 2012
Since 2005 Tuthill Corporation has been on a journey to create a Conscious Company culture that is based on the philosophies and tools of Radical Leadership® and Lean manufacturing. This very intentional blend of "Conscious" and "Company" helped Tuthill to achieve record numbers. Earlier this year Tuthill was approached by The Profile Series Production Company to be featured on a new series called In View, hosted by Larry King. The premier episode of the In View series will be on the Discovery Channel this Friday morning, December 7th, at 7:00 AM EST and PST.
Tuthill Corporation was selected by the In View selection panel because of its long-time presence as an American manufacturer and their unique culture. They believe that the power of authenticity, combined with awareness and responsibility, are the keys to the success that they're having. Tuthill is a fourth generation, family owned company that celebrated its 120th birthday this year.
"We are a manufacturing company that does so much more than make stuff" says Chad Gabriel, Director of Seismic Branding. "Tuthill provides every single one of its employees with the opportunity to create what they want in the context of our Vision, Mission, Values, and Brand statements", which you can learn more about on their website. "Our vision is to build a great company, grow healthy families, and to have a seismic impact on our world. I hope this show will inspire other companies to breathe more authenticity into their places of work."
Set your DVRs and tune in to the Discovery Channel on early Friday morning to learn more about what Tuthill Corporation is up to. Let them know what you think of the video by posting your comments on their Facebook page (http://www.facebook.com/TuthillCorporation). If you happen to miss the show, you'll be able to watch the full version of their segment on their YouTube channel (http://www.youtube.com/TuthillCorporation) or on their website (http://www.tuthill.com).
Tuthill Corporation is a privately held global manufacturer of industrial goods specializing in rotating equipment such as pumps, meters, vacuum systems, and blowers. From heavy oils to motor fuels, from tomato paste to process gasses, from standard pressures to deep vacuums, we move it and measure it with reliability that's measured in decades. And that's only part of our story. The rest of our story lives within our people. Our Conscious Company culture attracts and supports the kind of people who understand what our customers want and what they need – the kind of people who listen well and gain trust by following through on each and every commitment they make. Customers who demand excellence are a gift for us, for it is through their reminders and their encouragement that we will one day grow to be counted among the world's Top 1% industrial companies. We have much work to do - and we'll accept nothing less.