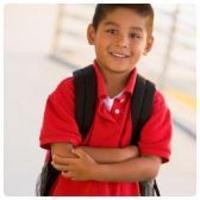 A little upfront planning can help parents and students prepare for a successful school year.
New York, NY (PRWEB) August 18, 2009
Get ready for back to school with a free month of Kaplan Tutoring's Online Program.
Need an online reading tutor? Online math tutor? Whatever the case, enroll in the Kaplan Tutoring Online Program and your first month is on us.
Free Online Program details include unlimited access to more than 1,000 hours of interactive online math and reading instruction; customized learning plans for your child; real-time online progress reports; and access to the Kaplan Tutoring Reward Zone.
Offer ends August 31. Enter AUGREF when enrolling.
Passing Notes, the Kaplan Tutoring blog brings back-to-school homework help to parents, students and teachers this fall.
Director of Academics at Kaplan Tutoring, Andrea Berlin, offers tips in "Getting Ready to Go Back to School" on the Passing Notes blog for preparing for the school year. "The opening of a new academic year is an exciting and sometimes scary time," says Andrea Berlin. "A little upfront planning can help parents and students prepare for a successful school year."
Parent Quick Tips:
Tip: Visit School. A quick visit can go a long way towards easing any anxiety your child might have about the upcoming school year, especially if your student is young or transitioning to a new school. Locate your child's classroom, lunchroom and bathrooms.
Tip: Re-establish Routines. Create a schedule or chart with your child and post it somewhere prominent in your home. The week before school starts, get on schedule for meals and bedtime.
Tip: Review Skills. Revisiting academic skills before the school year begins is one of the best ways to increase your child's motivation and self-confidence in the first weeks of school. Utilize helpful learning games and online educational software.
Tip: Create a Learning Kit. Create a personal, at-home learning kit for your child to practice skills and answer homework questions. Include math and vocabulary flash cards, fun books, a hands-on analog clock (for younger kids) and an online learning program. Use Shelfari to keep track of books read and follow Kaplan Tutoring on Twitter to exchange homework help tips.
Tip: Discuss Organization. Talk about different organization options with your student and his or her experience with different organizational tools. Once you've found the right organizational system, help your student learn how to - and remember to - keep track of short-term and long-term assignments.
Tip: Create a Homework Space. Work with your student to set up a quiet, personal homework space and make this area easy for your child to manage independently.
Tip: Personalize Supplies. Personalizing back-to-school supplies to your child's unique interests can make all the difference in getting excited about going back to school.
Tip: Positivity. When school starts, ask questions that focus on the positive. "What was the most exciting thing you learned today?"
Tip: Stay Involved. Make sure your child knows that you're interested in what goes on at school, and not just about homework and grades! Ask about your child's teacher and friends.
Tip: Help Set Goals. Discuss your student's goals for this year and help identify specific, achievable steps to reach these goals. Ask your student to record goals and keep them in a visible place so that you remember to check in. When your child achieves the recorded goals, celebrate!
About Kaplan Tutoring:
Kaplan Tutoring is part of Kaplan, Inc. With more than 70 years of education experience, Kaplan is one of the world's leading providers of lifelong education, including online math tutoring, reading tutoring and educational software. Kaplan Tutoring provides kids in kindergarten through eighth grade with online software and online learning games - a fun way to achieve their goals and reach their academic potential in math, reading, writing and algebra. Kaplan Tutoring programs include personal attention, positive reinforcement and a customized curriculum that adapts to each child's pace and learning needs. Kaplan is a wholly owned subsidiary of The Washington Post Company (NYSE: WPO). For further information, please visit http://www.kaplantutoring.com or call 1-800-497-2673.
###