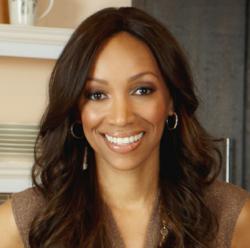 We are delighted that The Broadway Channel has chosen Audra to be the face of their network.
Beverly Hills, Ca. (PRWEB) September 25, 2012
Audra Lowe will be a TV host for The Broadway Channel's "What's Hot on Broadway" segment, featuring updated information on Broadway shows and exclusive interviews of Broadway stars. In addition, she will be interviewing celebrities on the red carpet for The Broadway Channel's coverage of Broadway opening nights.
The Broadway Channel is a full-service media company that produces and distributes video and television programming for Broadway, Off-Broadway, Broadway on Tour, Las Vegas, London's West End, Performing Art Centers and Regional Theaters nationwide.
"We are delighted that The Broadway Channel has chosen Audra to be the face of their network and we are extremely proud of Audra for the great work she does on camera, five days a week, sharing with folks all across America ways to make their life 'better,'" says Susan Haber, President, Haber Entertainment.
About Audra Lowe: During her six seasons as a TV host for "The Better Show", Audra has been highly instrumental in growing the show's visibility by over 600%. "The Better Show" initially began in 12 U.S. markets and is now seen in over 80% of the country. The show—which is produced by Meredith Corporation (known for brands like Better Homes & Gardens, More, Fitness and Ladies Home Journal)—is a one hour format dedicated to featuring topics that make your life "better"—family, finance, food, health, entertainment, etc.. Audra is also responsible for producing and creating numerous segments on the show, including the "Ask the Doctors" segment and the "Lowe Down"—an after show run-down that gives viewers an exclusive behind-the-scenes look at what goes into taping each show and fun tidbits about guests. Some of Audra's celebrity interviews at "Better" include: Jessica Alba, NeYo, Smokey Robinson, Kardashians, Kurt Warner, LaToya Jackson, Carl Edwards (NASCAR), Fran Drescher, Gladys Knight, Seal, Lynda Carter, Chris O'Donnell, Kate Walsh, Ice T. and Coco, LL Cool J, Melania Trump, Laila Ali, Olivia Newton John, Taye Diggs, Melissa McCarthy, Alicia Silverstone, Lady Antebellum, Jane Seymour, Casts of all the "Real Housewives" series, Jamie Lee Curtis, Chris Noth, Tyrese, Joss Stone, Olympic Snowboarder Shaun White, Lisa Ling, Linda Evans, Tia & Tamera, Vanessa Williams, Raven-Symone, Shannon Dougherty, Dina Eastwood, Bebe Winans, Pat Benatar. Throughout her career, Audra has also had the opportunity to interview high-profile individuals including President Bill Clinton and Secretary of State, Dr. Condoleezza Rice.
Haber Entertainment is a management, television packaging, brand-developing and media consulting company, specializing in representing talent, TV hosts, experts and personalities for on-camera positions for all types of television and internet shows, including talk, game, reality, news, dating, relationship, lifestyle, makeover, magazine, competition and sports as well as representing unscripted alternative television and internet formats. The company can be found online at http://www.haberentertainment.com