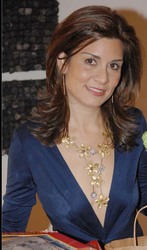 The Real Housewives of Atlanta
New York, NY (PRWEB) March 26, 2009
True Entertainment, the Endemol company behind the hit Bravo show, "The Real Housewives of Atlanta," has signed a development deal with celebrity matchmaker Samantha Daniels, whose life was the basis for the NBC/Darren Star show, "Miss Match " to create a surprising romantic docusoap with the working title, "Sexy, single and...searching."
The show follows a cast of five gorgeous but single women with Daniels at the core as they live their real single lives in NY, yet for some reason, simply can't find love. These beauties, all smart, interesting and social will be forced by Daniels to face their attraction Achilles heels and make the changes necessary to embark on a journey of love. "When you meet beautiful young women, who seem smart and accomplished, yet are single and unhappy about it, you have to wonder why. What's the problem? Why can't they find love? Samantha understands what is happening and she will show these women and women everywhere what it takes to turn their lives around," says Steven Weinstock, president of True Entertainment.
The show will be set in New York City and in typical docusoap fashion, will follow the real lives of these women- from their homes to their workplaces, and their socializing, out on the town. They will have constant guidance from Daniels, their modern day cupid as she acts as part matchmaker, part confidant, part therapist and part Gordon Ramsey of love. "I'm excited to be partnering with True Entertainment to create this show," says Professional Matchmaker, Samantha Daniels. "I've spent many years as a matchmaker, and I'm still surprised by how many fabulous single women simply can't find true love. They may be pretty and accomplished on the outside but something inside is sabotaging their chances. I am going to find that thing, teach them how to fix it, and show all women out there that that they can fix it in themselves too."
About True Entertainment
True Entertainment is a subsidiary of Endemol, the largest television producer in the world. True Entertainment was founded by Glenda Hersh and Steven Weinstock. True's Emmy award winning credits include scripted and unscripted reality programming for ABC, NBC, Bravo, MTV, Discovery, Lifetime, E!, TLC, Style and others. True is currently producing season two of the mega-hit The Real Housewives of Atlanta for Bravo, Wreckreation Nation with Dave Mordal for the Discovery Channel and Personal Justice for TLC.. True's long running series include: Emmy Award winning A Baby Story for TLC, Whose Wedding is it Anyway for Style and Mystery Diagnosis for Discovery Health. Other recent credits include: Band in a Bubble for MTV and Guinness World Records Live! for NBC.
About Samantha Daniels
Samantha Daniels is one of the foremost professional matchmakers in the country. She owns a bicoastal matchmaking service called Samantha's Table. She is ivy league educated, a lawyer by trade and she has an uncanny ability to know who goes well with whom. She has been responsible for over 100 marriages and thousands of substantial relationships. She is frequently relied upon dating and relationship expert, and is seen regularly on-television, on the radio and in national newspapers and magazines. She was also the inspiration for and a producer on the NBC/Darren Star dramedy, Miss Match starring Alicia Silverstone, the show was based on her life story. She is the author of the book, Matchbook:The Diary of a Modern-Day Matchmaker (Simon & Schuster) Currently, she has a popular blog, Matchmaker in the Know and she is the host of a popular web series, Relationship Chatter that airs 3 times a week on over 25 portals around the world.
For more information, please go to Samantha's Table
Public relations contact information: Lara Harrison
###