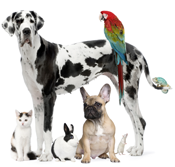 TVC will level the playing field for Veterinary practices to make all of our members competitive and stay independent.
Chicago Il (PRWEB) February 04, 2012
Joining The Veterinary Cooperative (TVC) will provide Independent animal hospitals a new way to increase profits, provide new offerings to their clients and compete against online and brick and mortar retailers.
"it is harder every day to turn a profit for independent veterinary practices. The current economy has been curtailing customer visits, as many strapped consumers watch every dollar they spend. The bottom line is also feeling the squeeze from competitors such as internet sales, big box pet stores and pharmacies," says Richard A. Morris, Chief Development Officer of The Veterinary Cooperative.
As an owner of a veterinary practice, how can one squeeze more profits out of a business under this type of attach? "To compete, the first step is to recognize that the world is changing and your practice has to change with it", explains Morris, who has seen these same pressures in many other industries. "Veterinary practices will have to negotiate with vendors as effectively as the large corporations with which they are now competing. That's almost impossible to do when independents try to purchase alone. No matter how good their negotiating skills are, they just cannot get the same pricing and are at a disadvantage from the start."
Don Holst, DVM, charter member and Veterinary Advisory Officer of TVC says, "I need to be able to purchase pet food, medication and medical supplies at a price that allows me to be competitive and make a profit. If the independent owners of animal hospitals joined together in their purchasing power, we could get that pricing!"
Adam Schwartz, vice president of public affairs and member services at the National Cooperative Business Association says this concept has worked in many other industries. "True Value Hardware is an example in which individual owners have joined a cooperative that affords them the buying power of their big-box competitors, such as Home Depot."
Morris adds, "The independent veterinary industry in the U.S. has been in need of a nationwide coop to serve this purpose. The Veterinary Cooperative will level the playing field in almost every area of an animal hospital practice to make all of our members competitive and stay independent." Morris points out that cooperatives do more than just offer lower prices. "Well-run cooperatives also help members to share ideas and best practices, which lead to new and innovative sales and profit concepts for the members."
###