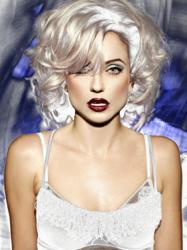 Please visit Cara Quici's "Fight" Kickstarter Campaign
New York, NY (PRWEB) September 11, 2012
In the aftermath of Napster and social media changing the music industry and shifting the power to television executives that have created hit shows such as, Opening Act and The Voice, Cara Quici, a Texas born singer/songwriter has proved that she is more than just another pretty face in the music scene. She is a passionate performer that has turned New Yorkers into believers and has now gone National. Cara hit New York like a storm when her first single entitled "Away From You" Jump Smokers Remix, premiered and created mass appeal to radio stations all over the country and TV's Music Choice.
With radio stations all over the country playing her single it wasn't long before the television networks began to show the same interest. All the years of developing her craft have begun to pay off and the summer of 2012 was by far Cara's busiest and most exciting time ever. Cara's music can be heard internationally on iTunes, and also on her very own "Cara Quici Radio" on the innovative Pandora Radio. Cara has developed American National recognition as television executives have featured 3 of her songs "Adios" "OAI" and "Clone" on 4 different episodes of CMT's hit television show "Southern Nights" including the finale episode.
Today's music industry now includes a bigger and more powerful role played by television executives who include the artist's song in TV and film sound tracks, as well as live performances in their programming. Singing competitions and performances on TV reach millions instantly, unlike touring which could take years to reach that large of an audience. That's great news for Cara, because television executives have quickly developed a fascination with the very talented, passionate and extremely beautiful green-eyed blonde from that small Texas town. Just last month, Bravo Television Network featured a 3 song performance by Cara on the 7th episode of "The Real Housewives of New York City" Season 5, which allowed Cara to reach millions of viewers in a single performance, including talk show host Jimmy Fallon and his wife, who expressed they loved watching Cara sing and dance so much they replayed the moment 3 times in a row. Some of those viewers were TV Executives like Andy Cohen, who immediately requested she also perform on his late night talk show "Watch What Happens Live" which he host's on Bravo TV. This also resulted in millions more viewers getting a chance to see Cara perform.
As we all know success doesn't happen overnight, and prior to Cara's National performances on Bravo TV, she had already established a local demand, not easily done in New York City. Cara was already being requested to perform in exclusive venues known for featuring big act's such as Bruno Mars and Cee-Lo Green. Cara's NYC performances featured a sneak peek of her next single "Fight" which not only had to be licensed through Universal Music Group and Sony/ATV, but also required that each member of the Beastie Boy's approve of her song. That process alone took almost a year to complete, but now with approvals in hand the song is being readied for release and is expected to fly off the charts. Already TV and radio executives are requesting Cara to perform it on their stations first. "Fight" is a remake of The Beastie Boys' "Fight For Your Right" which Cara recorded in 2010. The Beastie Boys have been a significant musical inspiration and influence for Cara and her remake of their song is a dedication to individual empowerment and to The Beastie Boys.
Cara is a true artist with her own individual look and style both musically and personally. To Cara, her musical performances allow her to freely express her innermost emotions, concerns and feelings to create a form of art that transfers a message to her audiences, that they too can express themselves through her music.
Today is the official release of Cara Quici's Kickstarter Campaign, which will help to raise funds for her highly anticipated "Fight" single release, including the music video, radio release, and mini tour. Cara has a personal message to relay in her "Fight" music video, so raising the money to release the single, is at the top of Cara's priorities. She believes that we all have a "Fight" and by helping to contribute to the single's release, we can all join in "Fighting For Our Rights" together! To find out more on how you can contribute to the "Fight" single release campaign, please visit Cara's Official Kickstarter Campaign.
With her management Darwin World Media and Jeff Cohen, President
of MMG-Model, Talent, & Celebrity Management, Cara is destined to be the next sensation.