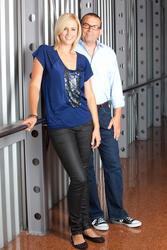 We're going to have bouncy castles and lots of fun stuff for kids
(PRWEB) September 17, 2010
On the last day of term TV ONE is broadcasting a Breakfast Special live from Christchurch's Cathedral Square – BREAKFAST FOR CANTERBURY will be live between 6am – 9am on Friday morning the 24th of September.
Local boy, Corin Dann kicks off the broadcast at 6am by hosting his show NZI Business from the centre of Christchurch and taking a look at the Christchurch earthquake in terms of cost and the investment in repair and reconstruction.
At 6.30am Breakfast's Paul Henry, Pippa Wetzell and Tamati Coffey will host a morning of entertainment that will include live performances from bands: The Feelers, J Williams, Kids of 88, Stellar and Dane Rumble (all are travelling to ChCh for the event courtesy of Air NZ).
Prime Minister, John Key is also travelling to Christchurch for the special broadcast and he will be joined by local dignitaries including Christchurch Mayor Bob Parker during the morning.
Christchurch locals are invited to come down to Cathedral Square during the morning to listen to the bands and join in or just watch.
"It would be great to have as many children as possible in the square, we're going to have bouncy castles and lots of fun stuff for kids – so set your parents alarm clocks early so you can drop by", says Breakfast Weatherman, Tamati Coffey.
During the morning, ONE News' Wendy Petrie and Matt McLean will be based at Auckland and Wellington transport hubs (respectively) with local celebrities shaking Red Cross buckets to raise money for the Mayoral Fund. Viewers will be asked to donate on-line or via the 0900 number.
The broadcast will conclude at 9am. The de-rig may take 1-2 hours.
For more info go to: http://www.tvnz.co.nz/breakfast
###